BEADED KIPPOT

Style - Fancy Glass E Beads

Perhaps my most special kippot to date!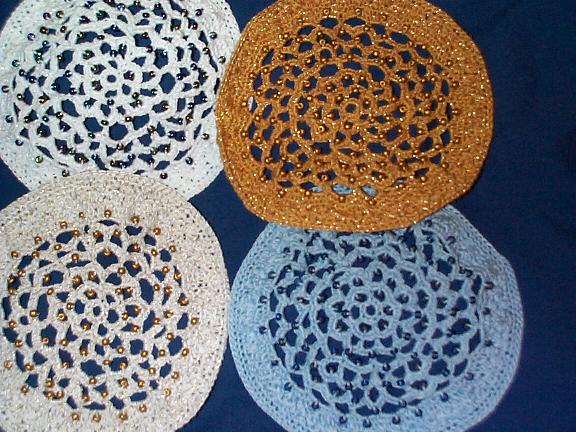 When first shown to friends the comments on these kippot were WOW!
The pictures really don't do them justice!
Cotton or Cotton with Metallic Threads.
Open lace with assorted Glass E Beads:

Opaque Antique Color Gold Glass E Beads
Variegated Blue Satin Glass E Beads
Multicolor Irridescent Dark Glass E Beads. (blue/black/green/purple)
Crocheted into a tight lace design.
5 or 6 rows of beads. (some having 100 beads!)
Border of shell stitches and single crochet.
Sizes vary from 5 1/2" to 6 1/2 "
Special Price $40.00 - $45.00 plus shipping.
See individual pictures for closer look and price.
BEADED KIPPOT CAN BE ORDERED IN MANY DIFFERENT:
COLOR THREADS
GLASS BEADS
SIZES
Email me for info and prices.
All yarmulkahs are priced for a single yarmulkah/kippah and shipping is extra.
Eileen generally ships US Post Office priority shipping box for $5.00 for small for USA Shipments.
Additional costs for shipping for larger/heavier boxes.
CLICK HERE TO PLACE AN ORDER WITH CHADIS CRAFTS
---
All Kippot/Yarmulkas, Scarves, Jewelry and Gifts are priced each plus shipping is extra.
---
---
Special Pages Index Below- Click on underlined word to go to these pages