EARRINGS CLIP AND PIERCED (Hypo-allergic wires)
Specify when ordering
---
Want a Different color or charms? Add beads? email me.
---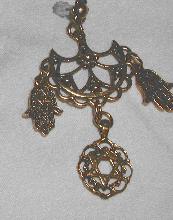 #1GPScrollStud Chandelier Earrings
Golden pewter stud earrings. (Hypo wire)
Golden pewter scroll with 2 mini chumsahs and filigree star
Special $28.00 pair plus shipping
Also available in pewter
#2PScrollStud Chandelier Earrings
---

---
Glass Tube Beads
Available with cobalt blue, lime green, pink, clear/orange beads.
Can be ordered with pewter or golden pewter charms
---
#1LGGlassTube Chandlier Earrings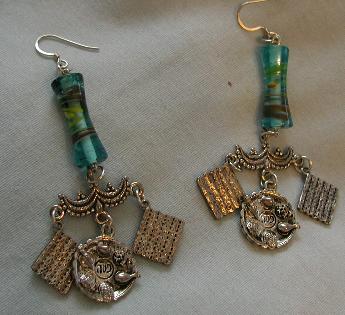 Large glass turouise glass beads with decorations
4 pewter matzah and 2 pewter seder plate charms
pewter chandlier
3" long from ear wire
1 1/2" plus at widest
can be ordered as non pierced
Introductory special $30.00 pair plus shipping
---
---
#2PGPChandelier Glass Tube Earrings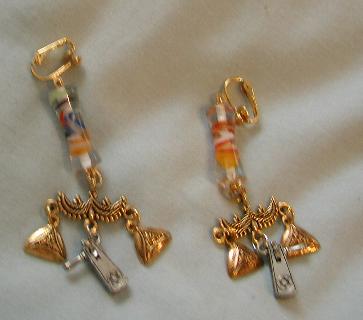 Clip earring but can be ordered with stainless steel wires
Golden pewter and pewter charms and Chandelier
Orange glass tube bead
3" long by 1 1/2" wide from wire/clip
Introductory special $30.00 plus shipping.
---

Chandelier earrings
---
#1GPChandelier Purim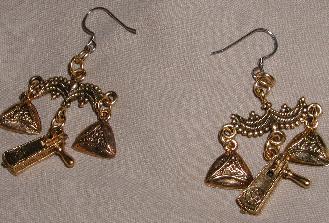 6 golden pewter charms
Golden pewter chandlier
Special $25.00 pair plus shipping
also available in Pewter
#1PChandelier Purim
Can be also ordered as clip earrings.
---
Check Out My New page of
Clip Earrings.
They can be ordered as pierced too.
---

#1P Chandelier Earring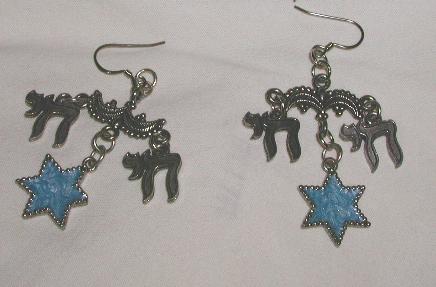 Hypo wires (can be ordered as a clip earring)
Pewter chai charms
Enameled pewter star
Special $28.00 pair plus shipping
Also available in golden pewter
#1GP Chandelier Earrings
---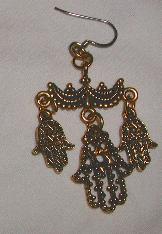 #2GP Chandeleir Earrings
Golden pewter 2 mini chumsahs and lg filagree chumsah
Special $28.00 plus shipping
Also available in pewter
#2P Chandeleir earrings
---
To see Food, Welcome and other Fun earrings. Click Here
---