Charm Dangles
Use for cell phone jewelry, on dog or cat collars,
Bookpacks, zipper pulls
or add a charm to some jewelry of your own!

Charm dangles can be ordered
with any of the charms seen on my site.
Just ask!
---

Large Chumsah, Hand of G-d Charms
Some also call this one to avoid the evil eye.
Glass Bead can be glued in to eye for $1.00 more. Color of your choice
#1PEXTRALGChumsah Dangle
#2GPEXTRALGChumsah Dangle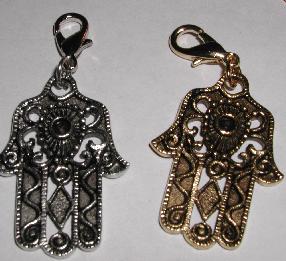 Extra large and heavy chumsah
1" by 1 1/2" but THICK
Large lobster claw
$9.00 each plus shipping
Great for large zipper pull(also available as key chain )
---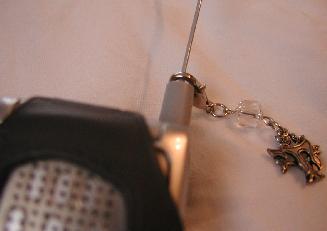 You can hand the dangle from the cell phone antenna too.
---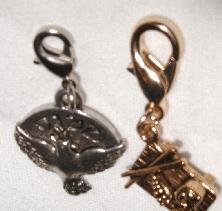 Lobster claw clasps come in two sizes
large and small
Please specify when ordering
---
Dangles with out beads = $5.00 each plus shipping
---
Music Charms
more available
---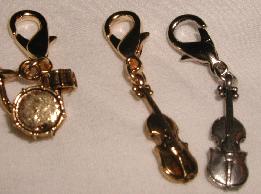 #1MGP Drum Dangle
#2MGP Violin Dangle
#3MP Violin Dangle
all with large claw

---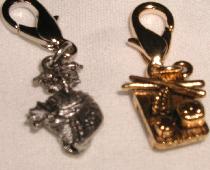 #1P Geisha Dangle
#2GP Sushi
#3P Sushi Dangle (not shown)
both large claw

---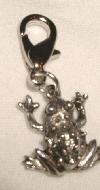 #4P Frog Dangle
#5GP Frog Dangle (not shown)
---
Jewish and Bible Charms
---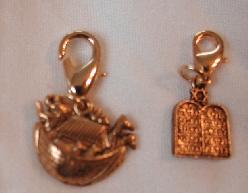 #1JGP Noah (large claw)
#2JGP Ten Commandments(small claw)
---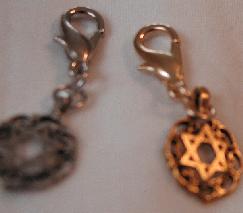 #3JP Fil Star Dangle
#4JGP Fil Star
Both large claws
---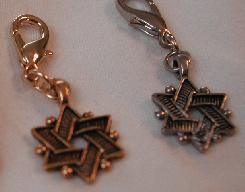 #5JGP Braid Star Dangle
#6JP Braid Star Dangle
---

#7JGP Dove Dangle
#8JP Dove Dangle
Reversible Hebrew and English Shalom
---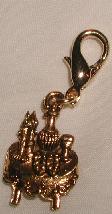 #9JGP Shabbat Table Dangle
Same in Pewter
#10JP Shabbat Table Dangle
---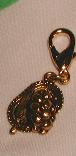 #11JGP Challah Board Dangle
---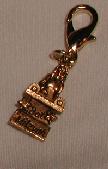 #12JGP Bat Mitzvah Dangle
same in Pewter - #13JP Bat Mitvah Dangle
---
#14JGP Golden Pewter Bar Mitzvah Dangle
#15JP Pewter Bar Mitzvah Dangle
---






Resin Charms on large lobster claws
availiable with gold or silver tone claws
Each charm is about 1 1/2" wide by 1" long
Introductory special $5.00 each plus shipping
---
More Charm Dangles

Also available now:
---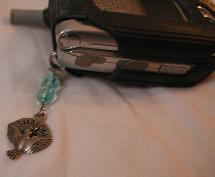 Some cell phones have a place you can hook a chain or something.
Sizes of holes can vary.
This phone took a large lobster claw.
---
Beaded Dangles
Glass, Glow in the dark glass beads,
Plastic glow in the dark beads and more!
Please use caution when using beads with animals
Dangles with clear cut beads with gold or silver trim
$6.00 each plus shipping
---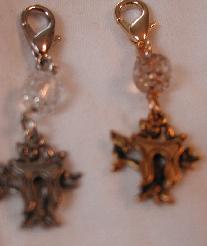 #1JPB Tree Dangle
#1JGPB Tree Dangle
Both with large claws
Clear bead trimmed with gold or silver
---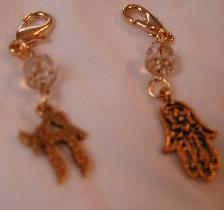 #2JBGP Chi House Dangle
#3JBGP Large Chumsah Dangle
---
---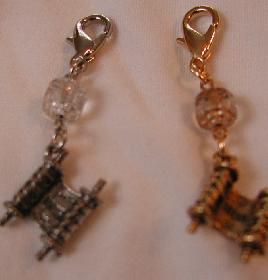 #4JPB Torah Dangle
#4JGPB Torah Dangle
---
Plastic mini glow in the dark pony beads
$5.50 each plus shipping
---
#1JGPpl Noah Dangle


---
Dangles with Glow in the dark GLASS beads
---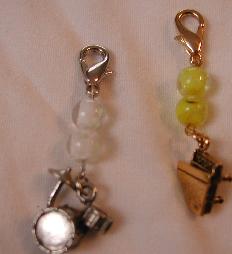 #1P Glow Dangle - Pewter Drum
#2G Glow Dangle -Pewter Piano
$6.50 each plus shipping
---

#3G Glow Dangle - Golden Pewter Pineapple
#2P Glow Dangle- Pewter Apple
#4GP Glow Dangle - Golden Pewter Apple
$6.00 each plus shipping
---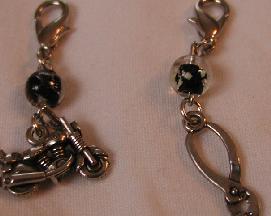 #5P Glow Dangle - Pewter Motorcycle
#6P Glow - Pewter Pliers Pliers
$6.00 each plus shipping
---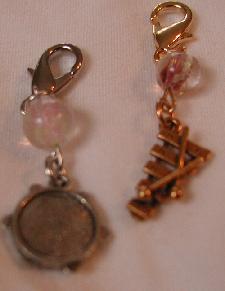 #7P Glow Dangle- Pewter Tambourine
#8GP Glow Dangle- Golden pewter Xylophone
$6.00 each plus shipping
---
#8GP Glow Dangle- Golden Pewter Cheerleader
---
#9P Glow Dangle- Pewter Geisha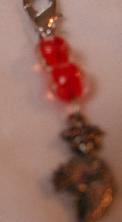 $6.50 each plus shipping
---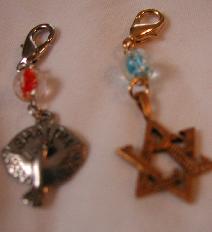 #1JP Glow Dangle-Pewter Shalom Dove
#2JGP Glow Dangle- Golden Pewter Love Star
$6.00 each plus shipping
---