CHADIS CRAFTS & KIPPOT
&copy Design Originals
For Questions and Orders:
Telephone Number: Virginia, USA
757-344-6656

Customer Service is open:
9 AM to 10 PM EST. (USA)
Except on: The Jewish
Shabbat.
Sundown Friday to Sundown Saturday.
Plus Also Closed on All Jewish Holidays.

---
---
To Place and Order with Chadis Crafts
---
See my flickr pages for examples of custom orders.
Be the first to find out about new products and specials.

Click on Facebook and become a fan of Chadis Crafts!

---
---
Follow Chadiscrafts on Tumblr too
Search on Chadiscrafts
---
To return to
Chadis Crafts Home Page
with catalog indexes.
Chanukah Jewelry and Gifts
Hand Made Clay Dreidels
Joseph's Coat of Many Colors
&copy Chadis Crafts Originals
Dreidels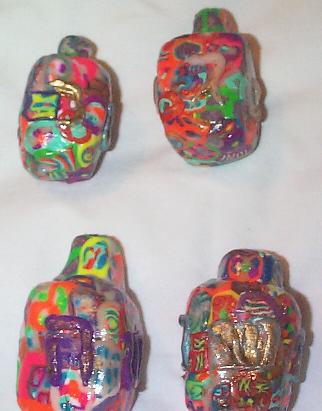 Limited edition.

All unique.

Sculpey Clay Dreidels with many handmade cane/pattern slices applied to clay driedel.

Each has all four Hebrew letters.

Some with a gold wash.

Sizes vary but most are 1 1/2" wide by 2 1/2" high.

Price $15.00 each plus shipping.

Most can stand with out a seperate stand.
---
Sold Out! Special order only.

Mini Sculpey Clay Dreidel Charms.

Joseph's Coat Series.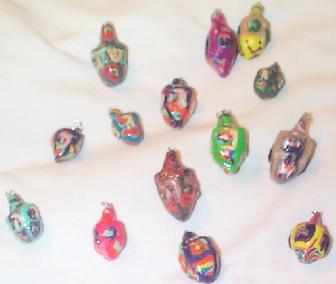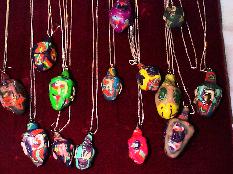 Mini Clay Driedel Charms.

Each Dreidel is hand made.

All four Hebrew letters are added individually.

Each charm is unique and decorated with handmade cane slices of Sculpey clay.

Size= Varies. 1" long to 1 1/2" Long. The 1 1/2" long ones look twice as big as the 1" ones.

Available on 18" fine box Sterling Silver Chain.

Price=$ 12.00 each. (with chain) plus shipping.
---
Back to gift index.
All yarmulkahs are priced for a single yarmulkah/kippah and shipping is extra.
Eileen generally ships US Post Office priority shipping box for $5.00 for small for USA Shipments.
Additional costs for shipping for larger/heavier boxes.
CLICK HERE TO PLACE AN ORDER WITH CHADIS CRAFTS
---
All Kippot/Yarmulkas, Scarves, Jewelry and Gifts are priced each plus shipping is extra.
---
---
Special Pages Index Below- Click on underlined word to go to these pages