CHADIS CRAFTS & KIPPOT
&copy Design Originals
For Questions and Orders:
Telephone Number: Virginia, USA
757-344-6656

Customer Service is open:
9 AM to 10 PM EST. (USA)
Except on: The Jewish
Shabbat.
Sundown Friday to Sundown Saturday.
Plus Also Closed on All Jewish Holidays.

---
---
To Place and Order with Chadis Crafts
---
See my flickr pages for examples of custom orders.
Be the first to find out about new products and specials.

Click on Facebook and become a fan of Chadis Crafts!

---
---
Follow Chadiscrafts on Tumblr too
Search on Chadiscrafts
---
To return to
Chadis Crafts Home Page
with catalog indexes.
Deluxe Beaded
Wine Charms/Napkins Rings
&copy Chadis Crafts Exclusive
Jewish and Other Styles.
---
Examples of Judaic Charms on a Goblet or as a Napkin Ring.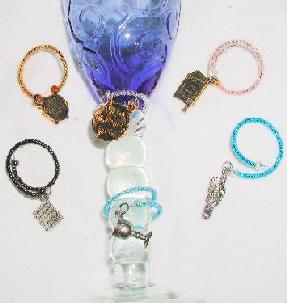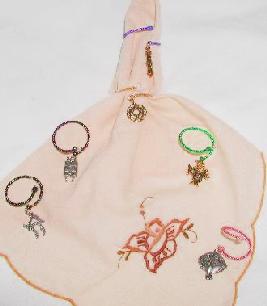 Wine Charms/Glass Markers
Also Great for Napkins Rings and Tea Cup Handles.
Color beads vary per set.
---
All Wine Charms Sets of 6 or More Are On Sale Regular Price - $30.00
Sale Price = $25.00 set of 6 wine charms plus shipping.
Set of 8 Regular Price $40.00 set
Sale Price - $32.00 plus shipping.
Elijah and Miriam Wine Charms

In stock. Pictures coming soon.
Extra fancy wine charm set of two for Miriam's Cup and Elizah's Cup for your Passover table.

---

HOLIDAYS

---

#1 Holidays
Set of 8



Holidays Set of 6
#2 Holidays


#3 Holidays

#4 Holidays New 8 piece set

#5 Holidays


---

Sukkot


---

PASSOVER

Since people often have large groups for their seders, I am making multiple assortments.
Passover charms available in both pewter and golden pewter: Moses w/ten commandments, matzoh, hagaddah, seder plates, wine cups, mezzuzah, ten commandments. Miriam's tamborine in golden pewter only.

#1 with 2 wine cups (Miriam and Elijah)

Passover #2
With Miriam's tamborine

Passover #3

Passover #4

---

Jerusalem Set


Bible

Noah's Ark, Jerusalem and Peace Doves

---


Ani Dodi Li
I am my beloved
two sided pewter and golden pewter charm
English and Hebrew
perfect for wedding toast glasses or anniversary presents
$10.00 set of 2 plus shipping

---

More wedding and anniversary sets

---


Golden pewter and pewter Chupah sets
$10.00 pair plus shipping

---

SHABBAT


Shabbat #1


Shabbat #2

Shabbat #3

---

HAVDALLAH SET

Bottles marked Kosher Wine, Spice Box and Wine Cups.


#1 Havdallah

#2 Havdallah

#3 Havdallah

---

KLEZMER

---

Klezmer #1


Klezmer #2


---

SYMBOLS


Set #1 Symbols

#2 Symbols

Set #3 Symbols

Symbols set #4
Most symbols are available in pewter and golden pewter.
Shalom Dove is reversible with Hebrew and English.

---

SIMCHA SET
Chuppah, Bar and Bat Mitzvah


---


Chuppah and Ani Dod Li sets
Double bead sets in pewter or golden pewter. $12.00 set plus shipping
Wine Charms, the great way to have your guest keep track of their wine glasses.

Customer tell me they also use them on mugs, coffee cups and the handles of tea cups.

One customer plans to use them on the neck of the wine and grape juice bottles for her Seder Table.

Each wine charm twists around the stem of most wine glasses or footed water glasses.

TOP QUALITY

Hand made of high quality stainless steel memory wire - no hooks to fight with.
Glass beads covering the ENTIRE wire.
Deluxe Pewter Charms
Deluxe Golden Pewter Charms. 1/4" to 1" long.

Each set of charms come assorted in both golden pewter and pewter charms for an extra special look.

Large assortment of colors of beads to choose from.
Sets available in single or assorted colors.
Custom colors can be ordered.
Large assortement of charms.
---
Current Assortments of Pewter and Golden Pewter Charms.
Many charms are available in both metals.
Holidays. Including: Chanukah, Purim, Shavout, Rosh Hashanah, & Yom Kippur.
Shabbbat. Including: Candles, Challah, Tzedakah Box, Challah Cloth, Wine Cups and more.
Symbols. Including multiple styles of: Star of David, Chamusah, Chai, Mezuzzah, Mazel, Shalom Dove, Torahs, Ten Commandments and more!
Passover. Including: Moses and the Ten Commandments, Elijah's Kiddish Cup, Miriam's Kiddish Cup, Miriam's Tamborine, Matzah, Hagaddah, Seder plate, Mezuzzah and more!
Klezmer. Including: Dancing Hassid, Fidler, Violin, Piano, Clarinet, Drum, Tamborine and more!
Fruit (Perfect for Sukkot):Apples, Pineapples and Citrons.
Colors of beads can be ordered all one color or assorted colors.
Colors available are: golds, Irridescents, purples, greens, blues, sparkle, clear, pinks, reds, ambers etc.
(See my samples of beads for ideas.)
---
---
To see Non Jewish styles including Band/Music charms and Romantic sterling pairs.
CLICK HERE TO PLACE AN ORDER.
All Kippot/Yarmulkas are priced each and shipping is extra.
Special Pages Index Below- Click on underlined word to go to these pages