Close up of some of the new metallic, rainbow and pearlized threads that can be hand spun into the cotton threads I use in my headcovers.
I do not sell threads.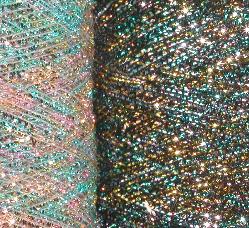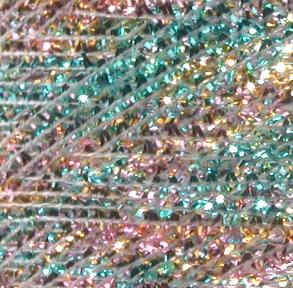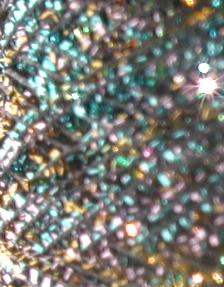 On left - Light rainbow metallic threads. On white base of nubby threads: copper, light blue, gold, silver etc.

On right - dark rainbow nubby metallic threads in: black, gold, silver, blue, copper and more.
---

MORE NEW METALLICS!

Left to right: *Black/green/and more *Black/Black *Black/Silver *Gold/Natural *Gold/Black * Copper/Natural
*Copper/Black *White Pearlized

Left to Right: *Red/Black *Red *Pink/Black *Light Pink? *Light Purple *Purple/Black
*Royal Blue * Light Blue
---
UPDATE!

SOME OF THESE METALLICS ARE NOW AVAILABLE IN A THICKER (4PLY) THREAD.
GREAT FOR TRIMS.
ALSO GREAT FOR STRIPES IN THICKER COTTON.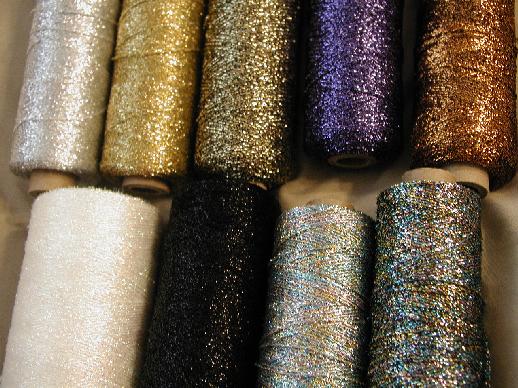 *Silver *Gold on Gold *Gold on Black *Purple *Copper on Black
*White Pearlized *Black *Light Rainbow *Dark Rainbow
---
KIPPOT CAN BE ORDERED IN MANY DIFFERENT:

COLORS, THREADS AND SIZES USING THESE METALLICS


Email me for info and prices.
---