&copy Chadis Crafts Originals
Knitted and Crocheted Scarves, Hats and Glove Sets
Made From Fur Like Yarns:
Ladder Yarn, Fun Fur,Mohair, Wool, Chenille, Boucle & More!

Chadis Crafts Fur-Like Scarves
Are Made Using 2-4 or more yarns!

---
Do you love the fur scarf crazy but don't knit or crochet?
Order one from Chadis Crafts!
The same extra quality and care of Eileen's other hand made crafts.
---
Adult sizes
---
Three piece sets .
---

Most pictured on this page are sold but custom orders are available and new sets are available.(pictures coming).
---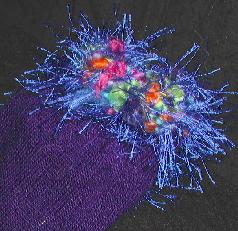 Boucle (mohair blend)
blue fun fur with ladder yarn
Blue trimmed gloves

---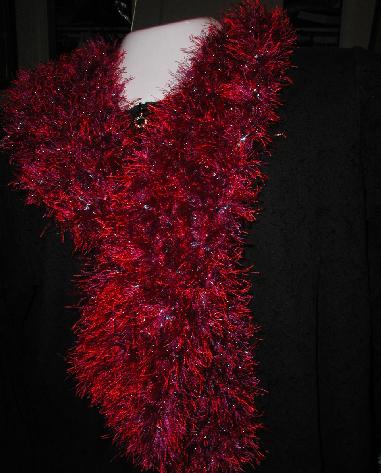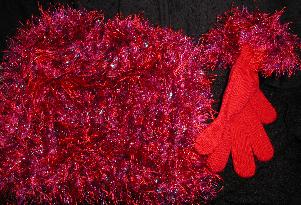 3 piece set
3 yarns
Red glow fur
Red fur with red multicolor ladder yarn
Fringed scarf
Special $75.00 set plus shipping
---
---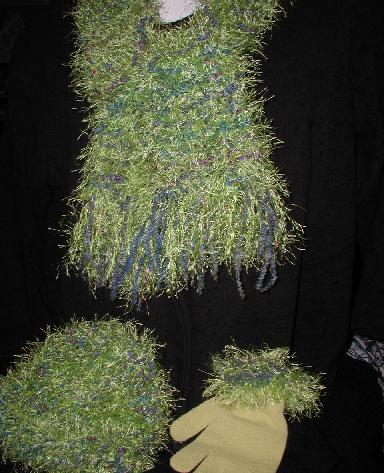 Multi color blues etc chenille yarn with lime green fur/ladder yarn
Special $75.00 set plus shipping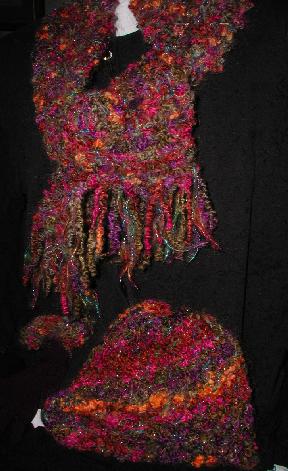 3 yarns
Mohair, metallic blend and Boucle
Reds, purples, oranges, beiges and more
black trimmed gloves

---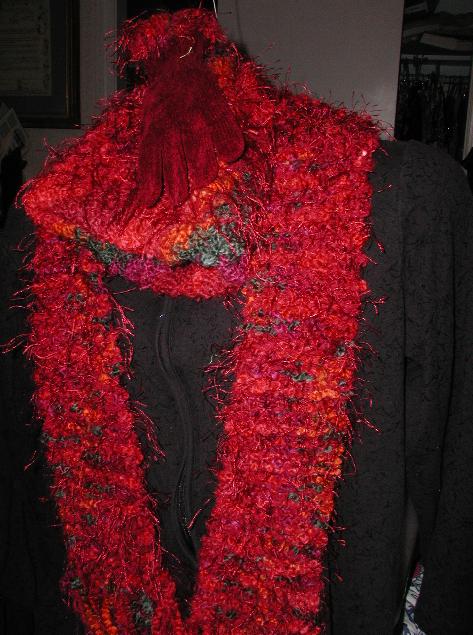 Red long lashed fur
Mohair blend boucle yarn
Chenille trimmed gloves

---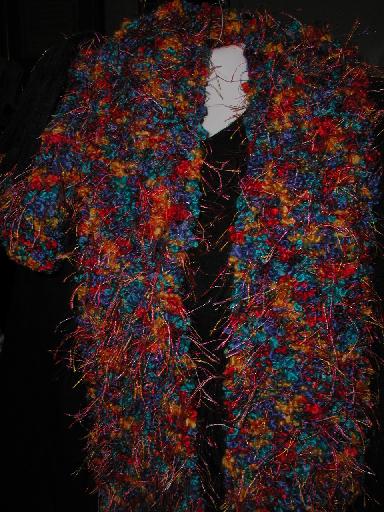 long multi red color lash fur
Mohair blend boucle with red, blues, yellow and more
Blue chenille trimmed gloves

---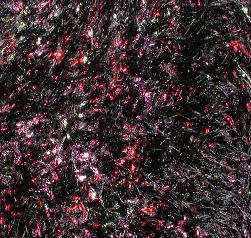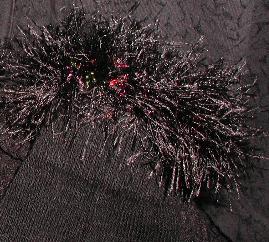 Black STOLL with matching gloves
Stoll is about triple the width of most scarves!
2 piece set
4 yarns!
2 Black furs and 2 assorted red ladder yarns
Fringed with matching gloves

---
Email me with your questions.eileen@chadiscrafts.com