Hand Crocheted Challah Covers
Table Runners

HEBREW LETTERS "SHABBAT"
WITH FLOWERS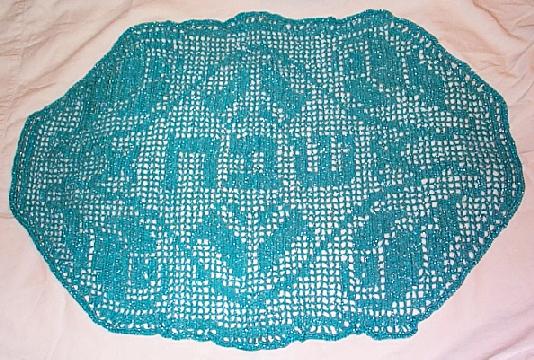 This open crocheted challah cover can be used as a table runner/center piece or as a challah cover.

Since it is open lace it can also go over a solid color table cloth or cover.

This challah cover is made with tourquise blue cotton with silver metallic thread.

As the thread is discontinued by the company,this is a one of a kind item.

The Pattern is a variation of the pattern sold in a kit by CALIFORNIA STITCHERY

It is available in many colors as a SPECIAL ORDER ONLY.

A similiar color can be made by my hand twisting silver metallic into a tourquise cotton.

Now with my new metallics the colors are almost limitedless!

As with any special order allow 2 - 4 weeks for delivery.

Size about 21" by 15"

Special Price: $ 185.00 Plus shipping.

If I was to guess how many hours this takes me to make this challah cover, it would be over 18 hours!
---