CHADIS CRAFTS & KIPPOT
&copy Design Originals
For Questions and Orders:
Telephone Number: Virginia, USA
757-344-6656

Customer Service is open:
9 AM to 10 PM EST. (USA)
Except on: The Jewish
Shabbat.
Sundown Friday to Sundown Saturday.
Plus Also Closed on All Jewish Holidays.

---
---
To Place and Order with Chadis Crafts
---
See my flickr pages for examples of custom orders.
Be the first to find out about new products and specials.

Click on Facebook and become a fan of Chadis Crafts!

---
---
Follow Chadiscrafts on Tumblr too
Search on Chadiscrafts
---
To return to
Chadis Crafts Home Page
with catalog indexes.
Sculpey Clay Mezzuzahs.
&copy Chadis Crafts Originals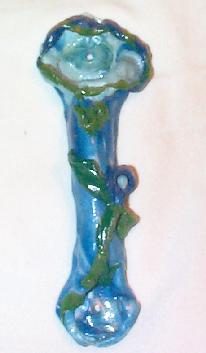 (left)Marbelized Blue with Green Leaves.
(right)Blue/White Marbelized Shalom.



(left)Green/white Marbelized with Yellow flower.
(right)Purple/Pink Swirled Clay Marbelized.
Hand Sculptured Sculpey Clay Mezzuzahs.
Mezzuzahs are vase like.
The prayer parchment (not included) can be placed inside easily. (Leave the plastic on when rolling the prayer.)
If used outside block hole with aluminum foil to keep dampness out.
Suitable for most small-medium parchments.
Other colors and styles available as special order.
Size average 5 to 6 inches long each.
Price $15.00 each.
---

MEZZUZAHS - Joseph Coat of Many Color Series.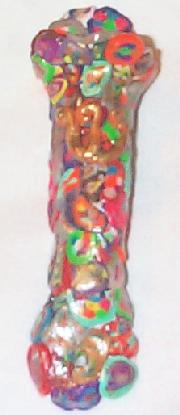 Multicolor Mezzuzahs named after Jacob's Coat.
Each Mezzuzah patterns is different.
Each one is made of Sculpey cane slices of a variety of hand made designs and patterns.
Available with a gold wash or without.
Available in traditional size. About 6"
Price= $20.00 each plus shipping.
Also available for the hard to find exlarge parchment. About 8".
Price=$30.00 plus shipping.
---
Jacob coat pattern available in picture frames, dreidels and more.
---
All yarmulkahs are priced for a single yarmulkah/kippah and shipping is extra.
Eileen generally ships US Post Office priority shipping box for $5.00 for small for USA Shipments.
Additional costs for shipping for larger/heavier boxes.
CLICK HERE TO PLACE AN ORDER WITH CHADIS CRAFTS
---
All Kippot/Yarmulkas, Scarves, Jewelry and Gifts are priced each plus shipping is extra.
---
---
Special Pages Index Below- Click on underlined word to go to these pages