CHADIS CRAFTS & KIPPOT
&copy Design Originals
For Questions and Orders:
Telephone Number: Virginia, USA
757-344-6656

Customer Service is open:
9 AM to 10 PM EST. (USA)
Except on: The Jewish
Shabbat.
Sundown Friday to Sundown Saturday.
Plus Also Closed on All Jewish Holidays.

---
---
To Place and Order with Chadis Crafts
---
See my flickr pages for examples of custom orders.
Be the first to find out about new products and specials.

Click on Facebook and become a fan of Chadis Crafts!

---
---
Follow Chadiscrafts on Tumblr too
Search on Chadiscrafts
---
To return to
Chadis Crafts Home Page
with catalog indexes.
Chumsah Pins.
&copy Chadis Crafts Originals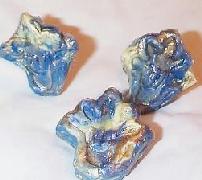 SCULPEY CLAY CHUMSAH PINS.
Chumsahs or Hand of G-d is an Israeli/Serphardic Symbol to ward of evil and for protection.
These pins also have a Hebrew letter Shin to represent G-d.
Part of my series of molded 3d pins and necklaces. All made in a 3d mold that I carved out of clay.
---
Sculpey Clay Chumsah Pins and Earrings.

Sculpey Clay marblized with gold wash. (Special orders on other colors.)
Made in my orginally designed molds.
Size 1 1/2 inch .
Pins = $8.00 each.
Earrings Pierced or Clips = $10 pr. Special Set $15.00

---