Sculpey/Friendly Clay Picture Frames.
&copy Chadis Crafts Exclusive

special orders only
---
Country Tile Series.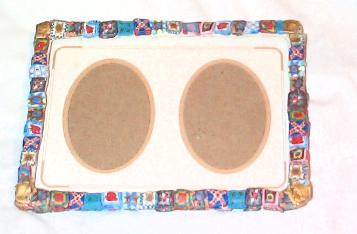 5 by 7 frame or use double insert mat.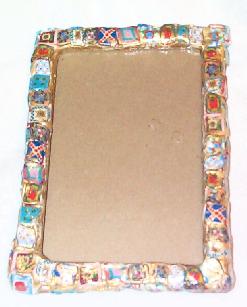 Metallic Gold wash. 5 by 7 frame.
Most frames can be hung or stand.
Friendly Clay Professional slices are shrunk and applied onto a base of Sculpey Clay.
The clay is put on top of a metal Picture Frame.
These frames are unique and are of the folk art look.
Squares/cane slices of many different tiles and sizes are used.
Apples, sunflowers, checkers and more.
Price Special= $20 each plus shipping.
Friendly Clay is a POLYMER CLAY just like Sculpey and Fimo and is not to be confused with Friendly Plastic which when heated stays a meltable plastic.
Sculpey Clay Picture Frames.
Joseph's Coat of Many Color Series.
Custom orders only
---
8 by 12 Frame.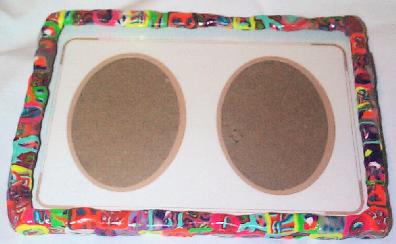 5 by 7 Frame can be used sideways with double picture matt.
Also can be used as a 5 by 7 standing in either direction.
Named for Joseph's Coat of many Colors.
Hand made Sculpey Clay Tiles/designs are molded over a metal frame.
Colors and patterns vary.
Available with or without a gold wash.
Special Price = $20 for 5 by 7 plus shipping.
$30.00 each plus shipping for 8 by 12.
Other styles available by special order.
Other Jacob pattern series available in Mezzuzahs, dreidels and more.