Heishi Shell with Friendly CLAY Beads
Eye Glass Holder/Necklace

Unique Hand strung Multicolor White Heishi shell beads.
Clay beads of white/blue/gold with yellow flowers.
Glasses hang down on neck when not wearing them.
Special order in other designs and colors.
$25.00 Special plus shipping.
---
Also available glass beaded eyeglass holders or badge holders.
---
Judaic Badge Holders
---



#1GP Badge Holder Pastel Glass Beads
New Golden Pewter Chi Beads
Golden Pewter chumsah beads (hand)
Golden Pewter Mini Stars
6 golden pewter charms total
pastel glass beads
Badge clip
Introductory Special $35.00 plus shipping.
---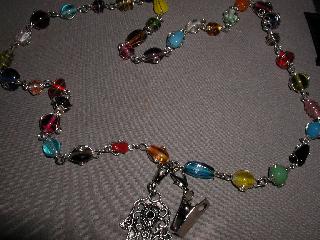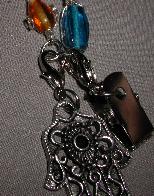 Wire wrapped glass beads, Extra large pewter chumsah (removeable with clasp) and badge clip (removeable with clasp).
Special order
Price varies with length.
$45.00 and up plus shipping
---
---

Judaic Eye Glass Holders
---
#1 Pastel Glass Beads Pewter Judaic Charms
---


Pastel glass beads
Pewter beads
New round pewter chi beads
Pewter Chumsah (hand) beads
Pewter Mini star beads
Total of 6 pewter beads
Introductory Special $35.00 plus shipping.
---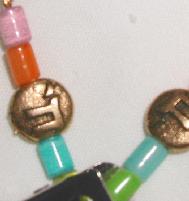 Close up of new glass beads
& new golden pewter chi beads.
---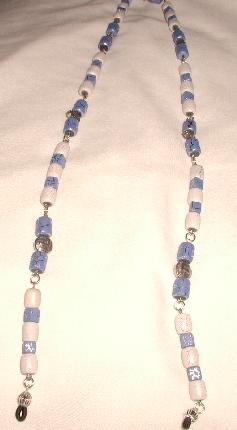 Style White/blue/silver desert beads with Pewter beads
white/silver and blue/silver cube and rectangle glass beads
Hand linked with metal eye pins
7 Pewter beads in : chi, mini chumsah and mini stars
Silver tone stretch eyeglass loop
Special $35.00 plus shipping
can be ordered with metal badge clip instead of eye glass loops
---
All yarmulkahs are priced for a single yarmulkah/kippah and shipping is extra.
Eileen generally ships US Post Office priority shipping box for $5.00 for small for USA Shipments.
Additional costs for shipping for larger/heavier boxes.
CLICK HERE TO PLACE AN ORDER WITH CHADIS CRAFTS
---
All Kippot/Yarmulkas, Scarves, Jewelry and Gifts are priced each plus shipping is extra.
---
---
Special Pages Index Below- Click on underlined word to go to these pages