Hand Crochted Trimmed
"Flip Flop" Sandals
Fun Fur Crocheted over the top of the flip flops.
Do you love fun fur but do not crochet?
Order one from Chadis Crafts!
The same extra quality and care of
Eileen's other hand made crafts.

Sandals are manufactured flip flop sandals
that Eileen hand crochets the trims.
All sandals have 2
or more yarns crocheted tightly together.
(Double the thickness of many copy cats)
Most with 1 or more
EXTRA quality yarns and furs No glue is ever used!Great for outdoor sandals
or indoor slippers!
MOST Jewish Sandals are $15 to $20.00 a pair
plus shipping

---

Shipping Rates for Flip flopsSpecial Shipping rates = $5.00 for first pair and $7.00 for 2.
Brazilian rubber flip flops Special shipping rates $5.50
Brazilian rubber wedges Shipping rates = $6.50 pair
---
Email me with your color or size request.
I will see if I have the yarn or can get the yarn.

eileen@chadiscrafts.com
---
Beads can be added to my flip flops.
Many style available.
Prices vary by amount of bead or styles.
---
Judaic Ceramic Beads



Ceramic beads (thick)about 3/4" diameter
Special price when ordered crocheted into the flip flops
Additional $1.50 each Judaic bead when used on the flip flops.
($3.00 per pair of beads)
---
Remember they make great winter slippers!

---


Some extra fancy for your little princesses!
---
---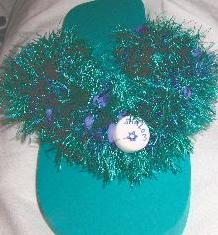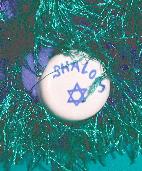 Ladies Size 7

Turqouise flip flop
Teal/turqouise thick tweed fur
Deep blue fur with lighter blue yarn with puffs
Ceramic Shalom/star bead
$18.00 pair plus shipping
---
Teen and Women Size Flip Flops
Mazel Tov Flip Flops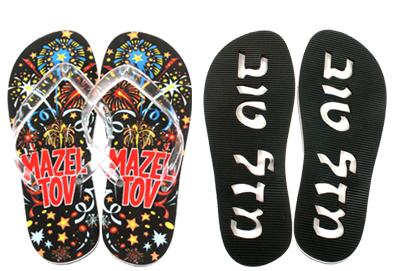 Mazel tov in English on the foot base.
PLUS! Mazel tov in Hebrew carved into the bottom.
Great for Bar or Bat Mitzvahs or Weddings with a beach theme.
Even Better if you are on a wet beach.
It will leave impressions in the sand or ground!
---

Discontinued by the manufacturer. Limited to stock in hand and only in the styles with fur below.
---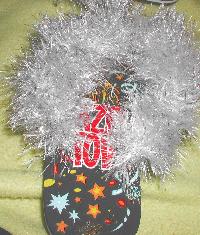 #1WSMazel Flip
Mazel Tov flip print with silver metallic fur and white glow fur
size 7-8
Special $18.50
---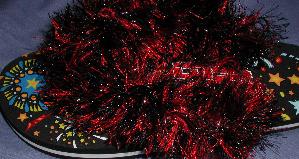 Red and black glow fur.
$18.50 plus shipping
---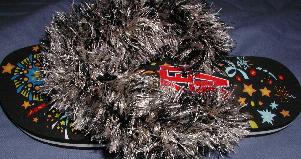 black glow and thick beige tweed fur.
$18.50 plus shipping
---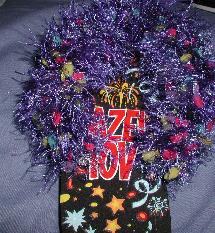 blue curly denim fur with black fancy fur with multicolor ball yarn
$18.50 plus shipping
---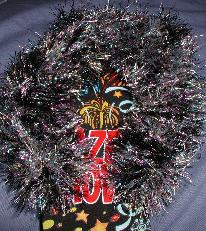 black glow fur with dark rainbow metallic fur
$18.50 plus shipping
---
Wedding Flip Flops
---
---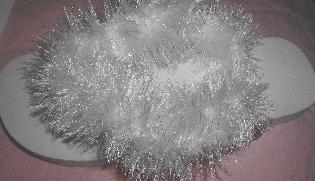 White flip flop size 7
double white glow fur
Perfect for a brides tired feet.
Special $12.00 a pair plus shipping
---

White Brazilian Rubber Wedges with double fun fur
Special $16.00 plus shipping


off white brazilian rubber wedge
White glow fur mixed with champaigne fur
special order, limited sizes
$16.00 pair plus shipping
---
Custom Order Bride and Bridal Party

Brazilian Rubber Wedge and flats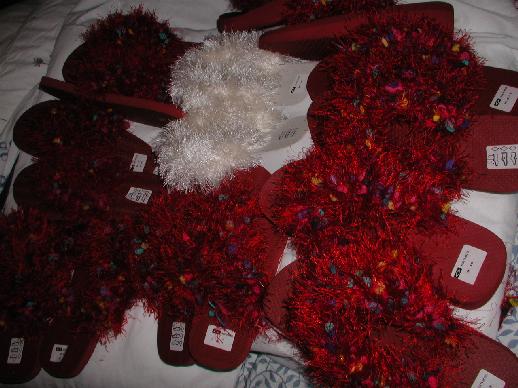 ---
Bride Flip Flop with Bottom impression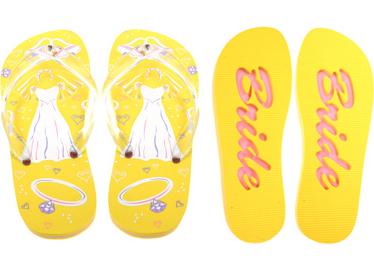 Bride design on base
PLUS! Bride carved into the bottom to leave impressions in the sand or ground.
Available in Large ladies 7-8
or X-Large Ladies 9 -10
Other sizes may be special ordered
WITHOUT TRIM- $12.50 a pair plus shipping (special)
With Hand Crocheted Trim in your choice of colors - $18.50 a pair plus shipping ( special)
---
#1WGBride Flip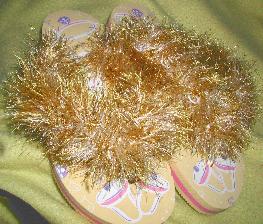 Bride flip print
White glow fur with gold metallic fun fur
Size 7-8
$18.50 pair plus shipping
---
To see more flip flops with print bottoms.
Betty Boop, Lion, cheerleader etc
---
From our visiting artist Loricrafts.com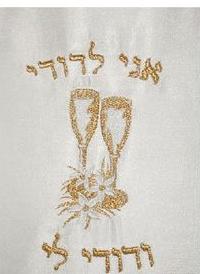 I am my beloved and my beloved is mine in Hebrew.
First of a series of satin bags to use to hold and to store the wine glass. Good during the ceremony and after to preserve the pieces.
---
contact Lori for prices, designs etc. Personalization also available with names and dates
---
---
SPECIAL ORDERS AND GROUP ORDERS
---
Special Orders deliveries can vary depending on
colors and sizes ordered.
Wedding party, Cheering leader squads, pep squads, gymstastic teams sets can also be special ordered.
Group orders can take 2 - 4+ weeks to make plus extra time for deliveries of supplies to me and shipping time to you.
Please leave sufficient time before your event.
---
Fall and Winter events should be planned months in advance as supplies of flip flops are often seasonal.
---
---
Brazilian Rubber flip flops are now in stock.
Available in:
multicolor, solid color and yes, finally, wedges!
Off white available for wedding parties.
email Eileen for color and size choices.
---
4 pages for flip flops
---
Please email me for availablity.
I have not had the time to mark all of the sold ones sold.
Sorry.
---