Ceramic Bead Stretch bracelets
with sunlight sensitive plastic pony
(color changing) beads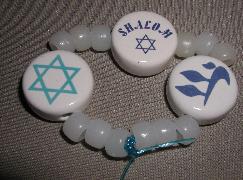 Child size
Special $6.00 plus shipping
---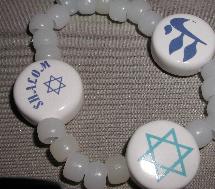 teen to adult size
Special $8.00 plus shipping
---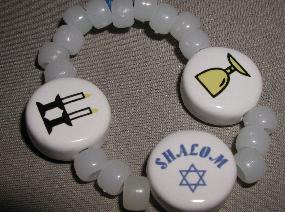 teen to adult size
Special $8.00 plus shipping
---
Memory wire Plastic and Ceramic Beads
---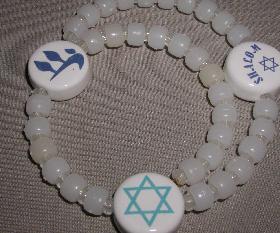 Clear small glow in the dark plastic beads
Large white color changing plastic beads
Ceramic large beads
Double row of memory wire
Special $12.00 plus shipping
---
To see other pins and earrings to match.
See My Custom Charm and Beaded Pin Page.

See my Judaic wine charms for examples
of the charms currently available.
Other colors of beads or charms can be custom ordered.
---
MORE COLORS and STYLES COMING.
---
Custom orders are always a possibility.
Email me for price quotes.
---

Memory Wire Bracelets
#1JMem Bracelet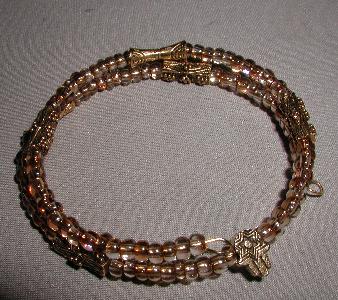 Double row of memory wire
Same as above but stretched open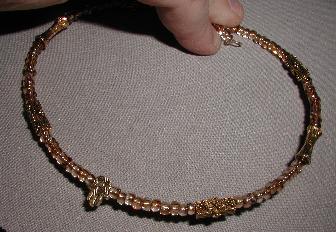 Golden pewter grape,tube , chumsah and star beads with mini drop stars
amber round E beads
Double row of memory wire
Special $24.00 plus shipping
---
#2JMem Bracelet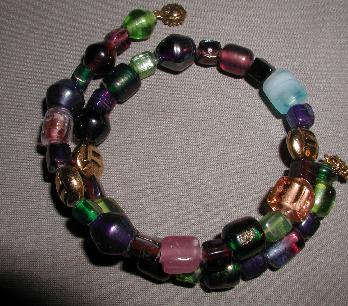 Double row of memory wire
3 golden pewter two sided chai beads plus 2 mini drop stars
Special $24.00 plus shipping
---
#3JMem Bracelet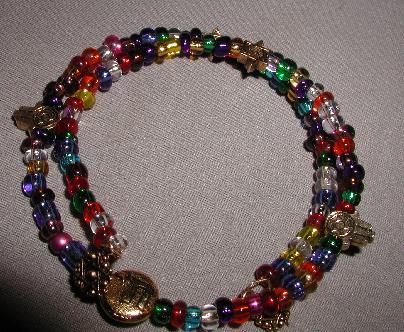 Double rows of memory wire
assorted glass E beads
golden pewter chai, chumsah and star beads with mini star drops on end
Same opened length wise



Special $24.00 plus shipping
---
#4JMem bracelet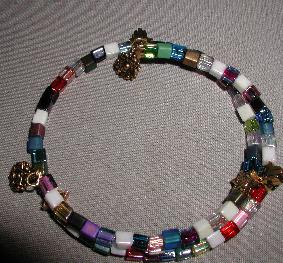 Same as above with square cut glass beads
Special $24.00 plus shipping
---
#5JMem Bracelet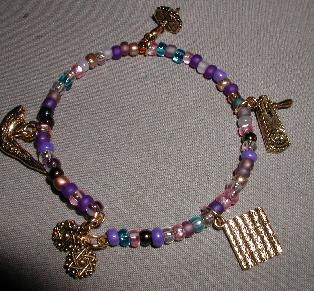 Single row of memory wire (about 7")
assorted opaque, satin and irridescent glass E beads
4Golden pewter charms: shofar, dreidel, grogger, matzah plus two mini drop stars on ends
Special $20.00 plus shipping
---
#6JMem Bracelet
Jewish Food Memory Bracelet
Double row of Memory wire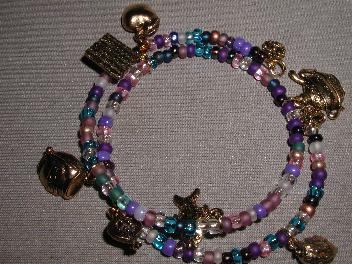 Assorted glass E beads
7 Golden pewter charms:
apple, honey jar, gefilte fish, chicken soup tureen, etrog, matzah, pomagranate plus 2 mini drop stars
Special $30.00 plus shipping
---