&copy Chadis Crafts Originals
Knitted and Crocheted Scarves
Made From Fur Like Yarns:
Eyelash,Tweed, Glowlash, Fun Fur, Boa & More!

Page 3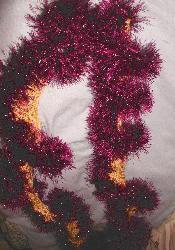 Chadis Crafts Fur-Like Scarves
Page 3

---

---

With the rush to get ready for holiday shows,
many of my new items have not got online.
I am adding this page quickly.
I will be editing this page over the next few days (hours!).
Please check back often.
Hundreds of new items are in stock for immediate delivery.
Fur trimmed slipper socks and gloves from toddlers to adults, mini purses and Hanukkah and Seasonal decorations made of fun fur!

---

Twisted Fur Scarves!
Fun!
These are crocheted scarves.
A base is crocheted that is ruffled and causes the yarn to twist.
Fur is crocheted onto the base.
The base can be ladder with or with out metallic yarns twisted into it.
Thick or Thin Cotton blends in nubby and boucle yarns with or without metallic threads.
They can be worn in many styles!
Lengths and prices coming.
---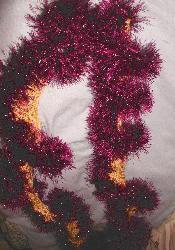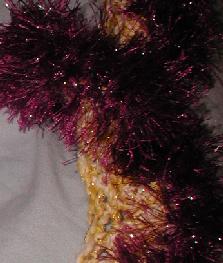 4 yarns.
Double Purple Glow Fur
white and yellow cotton blend with gold metallic twist.
66"

Special $45.00 plus shipping
---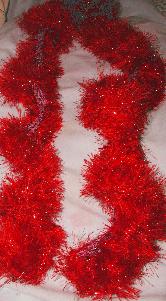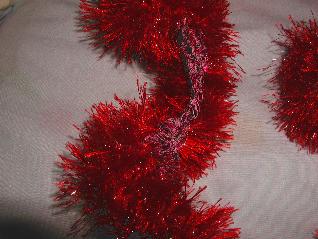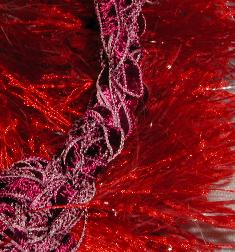 Red glow fur with purple ladder twist
Double red glow fur.
Double Multi tonal purple ladder yarn
Great for a Red Hat Lady Member that likes glamour!
52" lenght

Special $50.00 plus shipping
---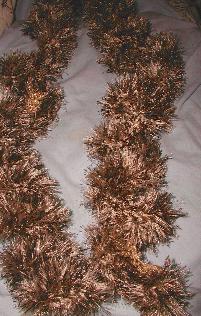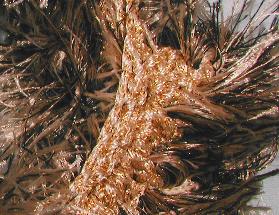 Double Brown tweed fur - Bone to dark brown fur.
White and gold metallic corded yarn
VERY THICK FUR
heavier than most fun fur scarfs
64"

Special $65.00 plus shipping.
---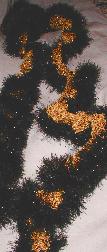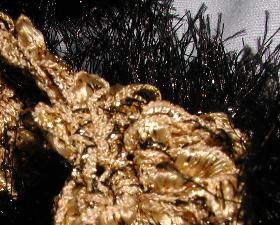 Ultra Glamour!
Black Glow Fur
Gold Metallic Ladder Yarn with thin black metallic twisted into the ladder
66" long
Special $55.00 plus shipping
---
Picture coming

Pink glow fur
purple ladder with purple square yarn
60"

Special $55.00 plus shipping
---
Email me with your questions.eileen@chadiscrafts.com
Match a coat or wear it with a sweater.
Order a shorter one to use as a collar
or instead of a necklace.
---
NEW LADDER YARNS IN STOCK
WITH MORE COMING.
---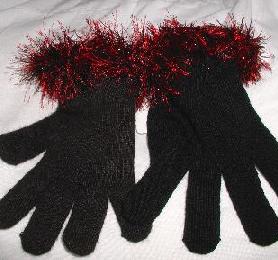 Click here to see Trimmed Stretch Gloves
---
---
More styles available and custom orders accepted.
---
Samples of some of my metallic threads that I mix in with the furs, ladder yarns etc
Click here to see my





metallics threads.
They come in very thin or thick thread that can be mixed into the scarfs for specks of glitter.
---
If you can knit or crochet and want to make scarves similar to these: see
my free lesson pages for tips and yarn sources.
---

They have yarn too!

YARN SALE GOING ON NOW!
---

Please read the description carefully as many metallics and other colors do not show up in the picture but are incredible.
---
New Yarns and more!
---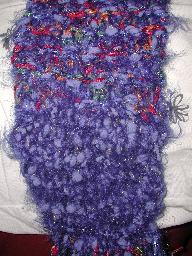 3 yarns
Blue puffy fur/yarn.
Primary colored satin/ribbon yarns
Thin gold metallic
---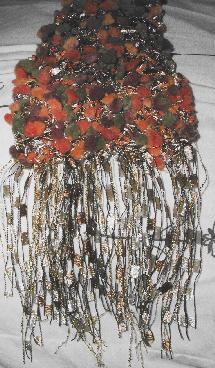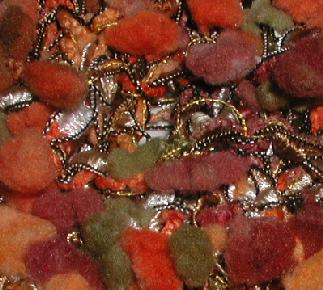 3 Yarns
Multi Tonal Brown Ladder Yarn
Puffy ball yarn in fall colors of oranges, browns and greens.
Thin gold metallic yarn
4" by 54"
Special $45.00 plus shipping
---
More Fur Scarves
---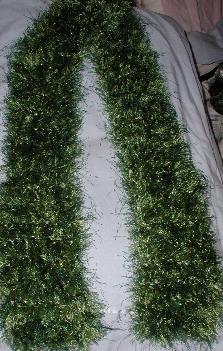 Lime green tweed fur
Extra long dark green eyelash fur
Light rainbow metallic
thicker
4" by 58"
Special $45.00 plus shipping
---

Multicolor blue boa fur
Blue denim fur with multicolors, blues, pinks and greens
light rainbow metallic
3" by 60"
Special $45.00 plus shipping
---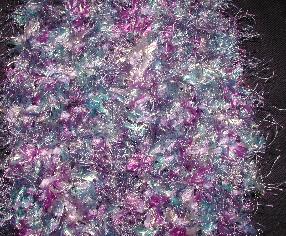 Turqouise to green boa fur
blue denim fur
thick silver metallic yarn
3 1/2" by 40"
Special $40.00 plus shipping
---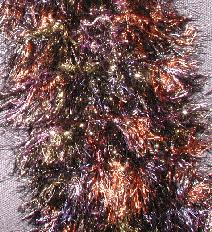 Bone/brown tweed fur
Multicolor fur in pinks, greens and blues.
Gold/black metallic
3" by 60"
$45.00 special plus shipping
---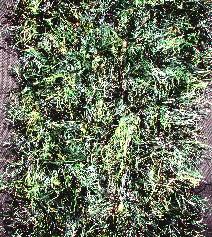 Colors off. Black glow fur
Multitonal, blues, greens. Mostly greens
dark rainbow thick metallic yarn.
2 1/2" by 50"
$45.00 plus shipping
---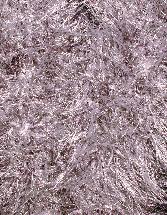 lilac tweed fur
deep purple thick metallic yarn
2 1/2+" by 56"
$45.00 plus shipping
---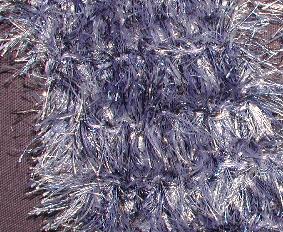 much deeper sparkle/glow
dark blue tweed fur
light blue glow fur
royal blue thick metallic yarn
3" by 46"
$45.00 plus shipping
---

More purple then it shows
Purple multicolor metallic fur
rose glow fur
$45.00 plus shipping
---
---

Click her to go to:
HAT, HEADBANDS, SCRUNCHIES AND FLOWER PIN PAGES