Crocheted Speciality Yarn Yarmulkahs
&copy Chadis Crafts Originals
Eyelash, Fun Fur, Boa, Ladder Yarn,
Metallics and more!

Do you love the fur and ladder yarn scarfs?
Want that look in a yarmulkah?
Order one from Chadis Crafts!
The same extra quality and care of Eileen's
other hand made yarmulkahs but with very unusual yarn and threads!
Email me with your questions.eileen@chadiscrafts.com
---
FUR YARN YARMULKAS
Special orders always welcomed!
---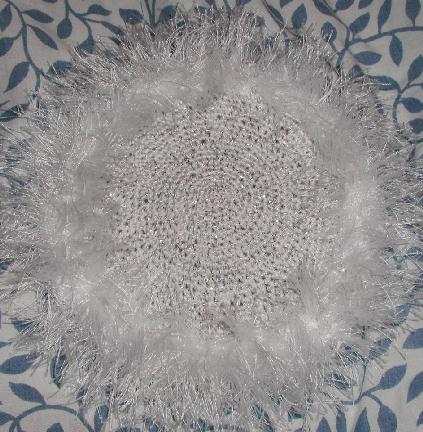 Style #KWsilvertwist WFur


Extra special!
White cotton with hand twisted silver metallic thread.
Border of White Fun Fur
5"
Super Special $45.00 plus shipping.
---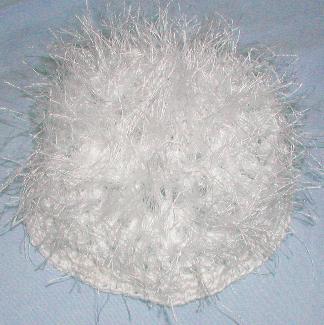 Style - White Fun Fur
White Fun Fur with thick white cotton twisted together.

White thick cotton edge in 6" size.
Loose stitches for lighter weight fur.
Special introductory price of $30.00 plus shipping.
---
Order yours in any color and size!
Price varies by size and number of extra threads.
---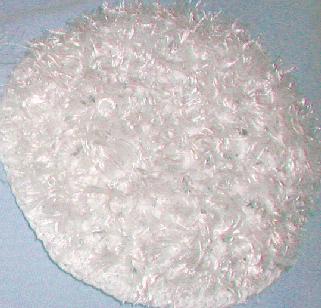 Style = White Boa
White Boa Fur Twisted with White Thick Cotton Thread.
Loose stitched for a lighter weight fur.
6" Introductory special of $30.00 plus shipping.
Boa is shorter thicker eyelash/fur yarn and is available in less colors than Fun Fur.
---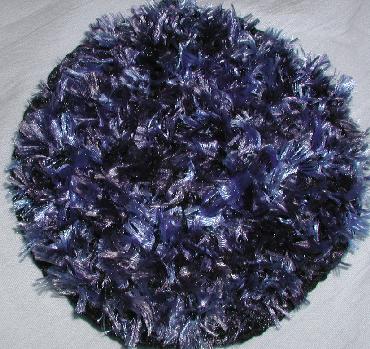 Style -Boa Assorted Blues
Two Yarns
Boa Yarn in Blues & Grays
Boa twisted into thick navy cotton
Navy edge
Size 6"
Special - $30.00 plus shipping.
---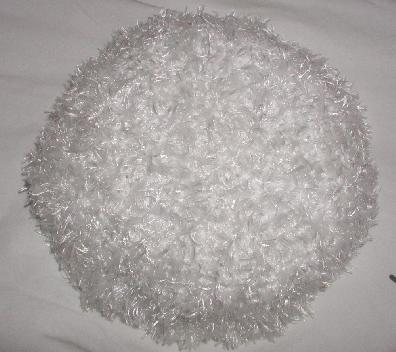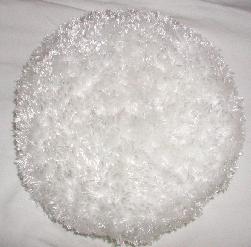 Style - Adam



Reversible short or slightly thicker fur
Two threads
White Thin Cotton Thread and White Boa
Tight stitches for a very thick kippah/hat

Size 8" but large.
Sale $45.00 plus shipping.
---
Knitted Fun Fur Headbands



Available in many fur and boa colors.
Can be ordered to match your scarf.
Made to your own head size.
Price varies by head size.
Children to Adult.
Most $20.00 plus shipping.
---
---
---
Yarn Definitions
---
Ladder Yarn
Some of the yarn that feels like ribbon.
Many have larger squares.
Some have the feel of wool.
(But is man made so it is still kosher with the cotton.)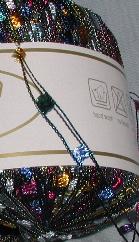 Now available in about 10 different veriagated colors and even metallics!
---
Eyelash/Fun Fur Yarn
Available in over 20 colors and in endless combinations.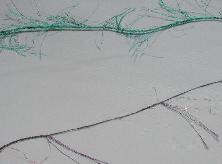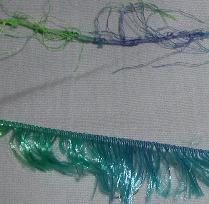 Fuzzy Ladder Like Yarn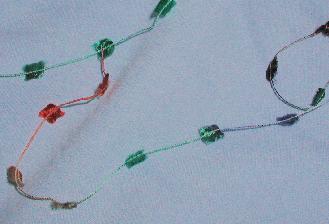 To See the Fuzzy and Ribbon Like Ladder Yarn Kippot Click Here.
---
Email me with your questions.eileen@chadiscrafts.com
---
---