CHADIS CRAFTS AND KIPPOT

HAND CROCHETED SIMCHA SETS PAGE
Sets for Bridal Parties, Grooms, Bar or Bat Mitzvah Families.
---
If you are looking for hundreds of satin/suede kippot to give away at your Simcah this is not what I do!
I HAND CROCHETED special heirloom like headcovers for the VERY SPECIAL Family members etc., each of which take many hours or days to make.

I do also make limited styles of quality yarmulkahs for guests.
These are usually yarmulkahs using thicker cotton yarns (faster therefore less money) or other yarns.
I may still need 1 to 2 months or more to make bulk orders, so please contact me with your questions and orders as soon as possible to allow me to order the yarns and make your special yarmulkahs.
To see examples of some other special white kippot for grooms etc and to see some samples of my bulk kippot, click here.

To see companies that sell bulk: satin, suede, machine knitted, etc see my Web Links pages.
---
Many of my kippot and also be used as a head covering for the Bride with or without a Veil.
---



To see some suggestions of Bat Mitzvah gifts or special matching kippot/jewerly.
---
WOMEN'S GLASS BEADED HEADCOVERINGS

Simcha Sets
A Great New Idea For a Bar/Bat Mitzvah Ceremony Or For Wedding attendents.

Matching Beaded Kippot for the Women in the Bar or Bat Mitzvah's family.
Honor the Bat Mitzvah Girl, her siblings, Mother and Grandmothers.
Matching thread and beads.
Matching Threads but different beads.
Featuring the color the family has chosen for her special day.

Sets also available for:

Bar Mitzvahs and the Men in the family.
Sets are also available for bridesmaids and ushers.
---
One Example
Petite 5" E Bead and Square Cut Beads
5 Different Petite Kippot
Same White and Gold Metallic Cotton Threads
Different Purple Beads in Each Kippot

This leaves the special family with a kippah that honors that day but can be worn at any time after.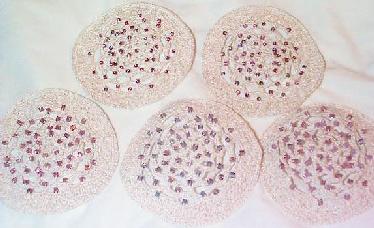 Hard to see but they were:
top left - purple carnival E beads, top right- three different purple E beads,
bottom left square sparkle light plum, square irridescent metallic purple with blue and square assorted purples.
Email me with your special colors and needs.
---


#KWSblueEpetitechildset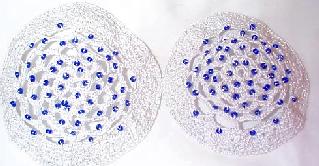 5" and NEW 4 1/2" pair
Most people like the 5" for Women, Teens and Girls. This smaller size was made for a very young sister of a bat mitzvh girl.

Any beaded kippah can be made in different sizes from 4 1/2" to as large as you want it! Just ask!

White with silver threads.

Blue E size beads.

5 rows in each.

5" Special $45.00

4 1/2" Special $40.00 plus shipping.

Shipping of set is considered one shipping charge.
---
---
Style-#KEPBFiliaments and #KEPBFilaments Blue Edge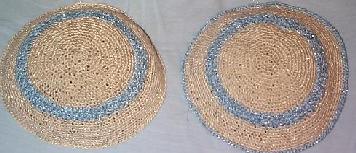 The color on this is terrible. This is a light ecru with pearlized theads!
Very special Kippot.
One with Extra Blue Edge.
Perfect for Groom and Father of the Groom/Bride etc.
Also great one for Bar/Bat Mitzvah family set.
Ecru with Pearlized threads in a fine single crochet pattern.
Blue and silver thin filiments of metallic colors have been hand spun around the blue cotton threads using a flower/star like stitch.
Size 5 1/2"
Price $35.00 each plus shipping
---
Also available in other colors to match your outfits.
To see more White with extra fancy hand twisted filiaments in open lace or solid styles.
---
Father and Son sets

Special order

This family picked out 3 kippot in 3 different sizes.
5" and 5 1/2" for the 2 sons.
6" for the Dad.
Prices vary by yarn weight and type of stitches used.
For example this set was $105.00 plus shipping.
---
Many people ask me about bulk kippot.
Dozens or 100+


The answer is yes, I do but it depends on the how long I have to work on the project and your budget.
---
More examples of Custom Ordered
Bar & Bat Mitzvah and Wedding sets
---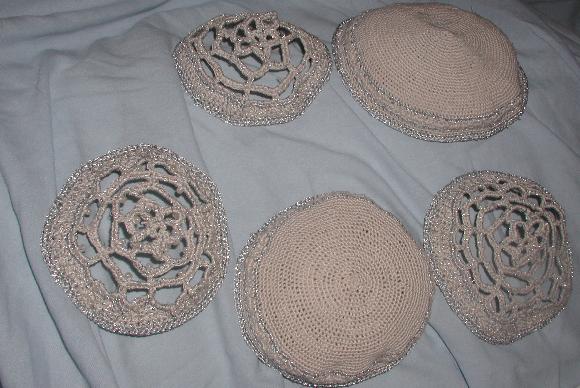 Family set for Israeli simcha
Natural color cotton with silver metallic yarn in thick and thin.
Bat Mizvah girls (size 5") had pearls and thin silver metallic twisted into the cotton. Fancy shell stitch border on all.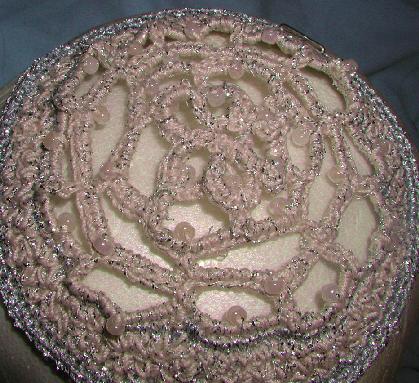 Close up of Bat Mitzvah girl's
Mother's (size 6")and younger sister's (size 4/12")had silver twist in cotton.
Father's (Domed 6") and younger brother's (5") had thick silver stripe on both sides of fancy shell stitch border.
All had thick silver metallic on edge.
---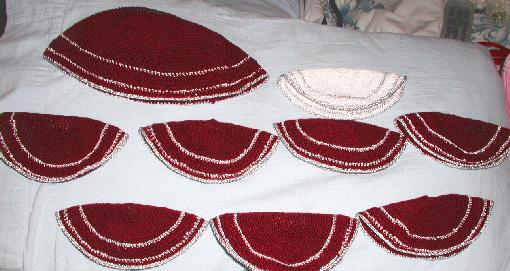 9 piece set.

Burgandy and Silver to match bridesmaid's dresses

White with silver for groom.

7 - 5 1/2 " for the attendants, fathers, brothers etc.

one doubled cotton thread in a 14" for bald grandfather.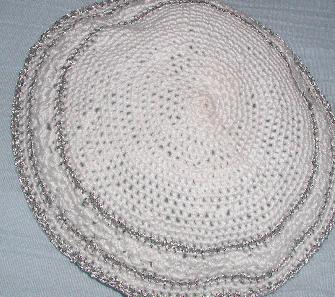 Close up of grooms
White cotton with thick silver metallic stripes
Border of fancy shell stitches.

The burgandy was made to match this kippah.
---
Example of A Special Order Set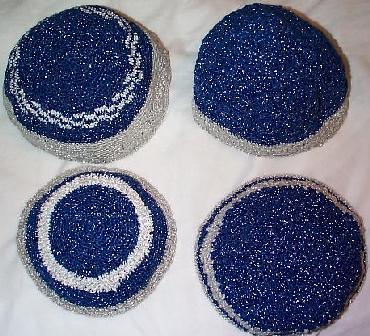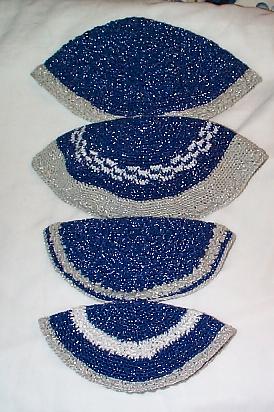 This very special set was made for the male family members of a Bat Mitzvah family.
We made all in the special blue with silver thread but then custom made them to be similiar but different.
Some needed to be extra large to fit men that needed to not use clips, one a child etc.
This set is an example only, together we can design one just for your simcha.
The blue threads used in these are discontinued by the yarn company.

I now can make similiar yarmulkes like these using navy cotton and hand twisting my new silver metallic threads into the cotton.

I can also make these styles in other colors using the new hand twisted metallics.

See Samples of Metallic and Pearlized threads that can be hand twisted into the cottons for extra colors.
They are incredible!
---
Sample custom ordered family set
---

Machine Embroidered
on my medium weight cotton navy kippot
by Loriscrafts.com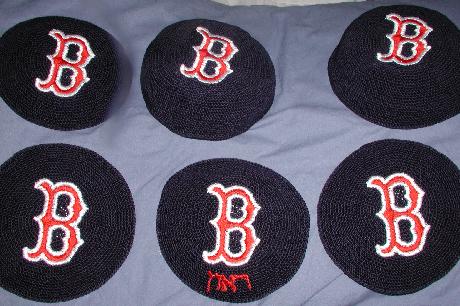 Sizes from 5" to 8"

This was the same family as the blue/silver set above but 6 years later!
They report the kippot above are still be worn!
As well as the custom to match the outfits of the ladies in the family
Plus they are ordering another custom set of beaded kippot to match the ladies clothes this time!
---
TO order embrodiery on my kippot, you first email me for sizes and prices for the kippot.
Then I email Lori with your design requests for her to give you a price for her services.
I deliver the kippot to Lori and then I ship it to you when she is finished.
One shipping charge for you.

To see more of Lori's embroidery on my kippot.
---

New sage green yarn

---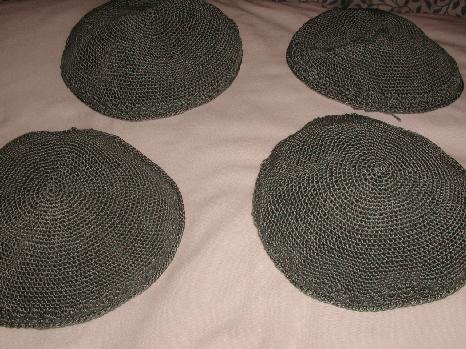 Kippot in assorted sizes was special ordered for the groom, both fathers and a grandfather.
Single crochet with shell stitch border
---