KIPPOT YARMULKAS
FOR MEN AND BOYS.
EXTRA LARGE SIZE

What is an Large to an Extra Large Kippah?
8" to 14+"

Many are really extra large like the Russian Kippot and fits every head without clips.
Some might call these Kabbalah or Beltser style.
Others are wider at the top to fit men with larger hat sizes.
Some can cover the whole head
Some are the size of a satin kippah that does not need clips, but fits better in my designs.
(No cone heads like satin ones!)

Each kippah or yarmulkah takes an average of 5 or more hours to make!
The price of my kippahs vary due to thickness of threads, difficulty of patterns etc.
Many of the styles found on this page are on special and average from $30 to $60.00 each.

These are quickly becoming my most popular men's style.
As such most of these are pictures of Custom orders and I do not have the pictured one in stock.
I CAN though make one for you just like them in your choice of colors.
Plus other designs or special orders are still accepted!
Orders are processed quickly.

Lets design one together!
---
CLICK ON PICTURE TO SEE:
a larger picture, description and price.
SEE INDEX ON THE LEFT (In WHITE BORDER)
FOR MORE YARN CHOICES AND OTHER LARGE TO EXTRA LARGE SIZES

---
8" to 10"
---
EXTRA LARGE SIZE (Fits most heads without clips.)

---
Extra Large Thick Cotton

Some Wide to fit a larger head.

Some May need clips.
---
LARGE SIZE Most Size 8" to 10"(Most Fit on head without clips.)
Thick and Thin Cottons, Wool and Combinations.
SOLID WEAVE - SINGLE CROCHET
(Some with Special Borders)
---
More New Yarns
They say size 3 thick but thinner and softer than the extra thick size 3





Lots of new colors!
---

---

LADDER YARN IN LARGER SIZES
My new ladder yarn yarmulkas now are available in larger sizes
---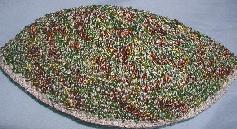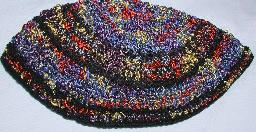 See Smaller ladder yarn kippot page for more examples of colors that may be available in Large to extra large yarmulkas.
---
Hand Twisted Pearlized and Metallic Threads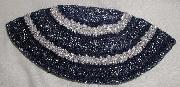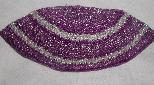 #1 Navy and Silver with Silver Hand Twist
#2 Purple and Silver with Silver Hand Twist - Wide style.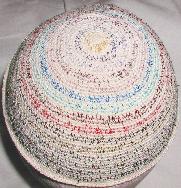 Kippah with over 15 different metallic twists.




---
Extra Large Kippot
Most are 10 to 11" Kippot
Thick Cotton many with shell border.

Many Colors Available
---
SPECIAL DESIGNS
8" to 10" Thick Cotton with Metallic Designs and Twists.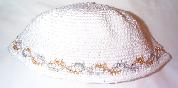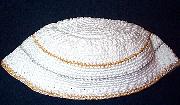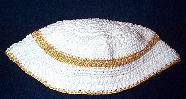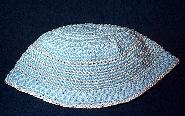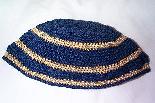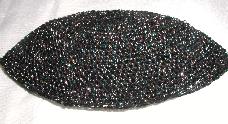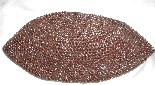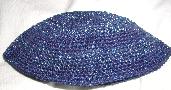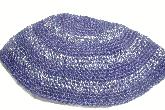 Cantor style - High top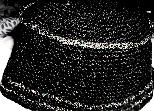 ---
---
To see my Large Yarmulkas in the
New LADDER YARN and Fuzzy Ladder Yarn with the look and feel of brocade or wool.
Click Here.