(Fits most heads without clips.)
---
Extra Extra Large Kippot
12"-14"
May cover most or all of head.
---

More New Yarns
They say size 3 thick but thinner and softer than the extra thick size 3





Lots of new colors!
---
Thick Cotton many with shell border.
Many Colors Available
---


Thick Cotton- Rainbows, Reggae and more!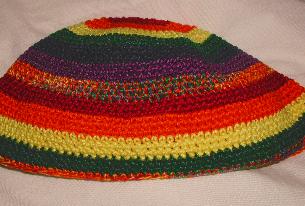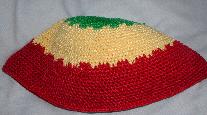 ---
Medium weight cotton.
This brand is available in white, silver/gray and gold only.

Just a little thicker than regular threads.

Holds shape nice even when made into a large kippah.

But since the thread is smaller than most of my Extra Large Kippot. It takes more time!
---
Doubled traditional cotton with variegated cotton yarn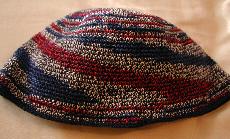 ---
As most 10 to 14" kippah are special orders with the length and width custom designed, I do not have many pictures online.
I have made hundreds over the years. All weights from traditional to thick cotton.
Email me your color and size requests.
---
To go to page 1 of Large to Extra Large Yarmulkah