Yarmulkah Prices: Vary by Size and Pattern.
Click on Picture to see: a larger picture, description and price.

Special orders are also available.
---
Lace Size 5" and up
REDS (RED, RED w/SIlVER)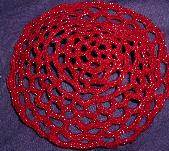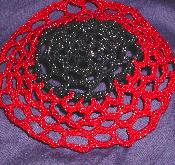 Blacks (BLACK, BLACK w/GOLD, BLACK w/SILVER)

ECRU and NATURAL COLOR COTTON (ECRU, ECRU W/GOLD, ECRU W/PEARLIZED and Natural plus)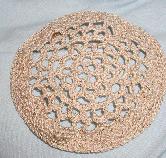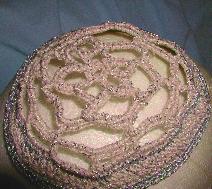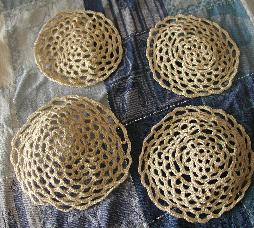 WHITES (WHITE, WHITE w/GOLD, WHITE w/SILVER, WHITE w/PEARLIZED )










GOLDS






BLUES



BROWNS

PINKS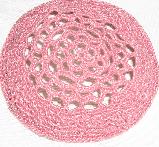 ---
Other Colors Available!
New colors now in stock.
GREENS:
include Sage, Light Mint, Light Green and Varigated greens/white/browns
PURPLES, ORANGES and MORE!
Email me!
---
A CHADIS CRAFTS EXCLUSIVE!

Head Coverings Half Kippah Shape
---
Before I created the 5" petite style I designed these half kippot.

They are still available but for most the Petite 5" works better.

Designed as special order for a teen who wanted to put her hair up.

This shape is like the old fashion doiles Temples gave out for women.

Now in hand crocheted open lace with a scalloped border in a 3D stitch.

Many find they can wear it in two directions.

Email for ordering other colors.

Price:
$35.00 each plus shipping.
---
To see page two of women's kippotWomen's Kippot Page 2
---