No starch is ever used to stiffen the headcovers.
Many rows are crocheted twice to allow the kippah to mold to your personal shape of head or hair style.
We can work together to match a tallit, outfit or color theme.
---
WHITES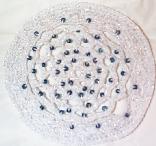 #1White/Silver w/opaque gray opal beads.#2 White with clear irridescent beads.
#3 White/Silver w/blue muted beads. #4 White/Pearlized with clear blue beads.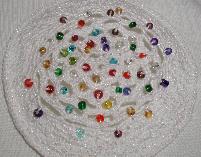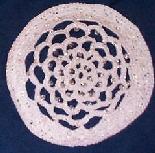 #5 White/pearlized w/multi beads #6 White/pearlized w/clear irridescent beads.
#7 3d star White/silver w/Silver and clear irridescent beads.
#8 White/Gold w/light blue satin/clear beads.
Also available: White/Silver w/light blue satin/clear click on white/gold for picture







#9 White/Gold w/purple carnival beads. (Multi color irridescent on purple beads.)
#10 White/Silver w/multicolor blue glass beads (irridescent, clear and opaque)
#11 White/Gold w/clear amber glass beads with a dark blue linning.
#12 White/Gold w/coppersilky glass beads.



#13 White/Silver w/purplecleargoldwashed irridescent beads.

ECRU and NATURALS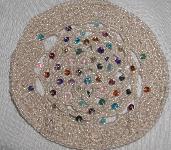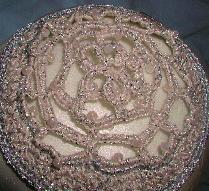 #14EPastE Ecru/pearlized w/assorted pastel E beads.
(Picture has Good color on the Ecru/pearlized)
#14 Ecru/pearlized w/clear gold irridescent beads. #15 Ecru Pearlized w/clear gold wash and green carnival beads.
#14N Natural with silver twist and Off white pearls
GOLDS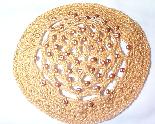 #16 Gold/gold w/clear gold wash beads.#17 Gold/gold w/opaque antique like E beads. #18 Gold w/darkamber beads.
#19 Gold w/copper silky glass beads.#20 Gold w/purplegoldbeads

SILVERS





#21 Silver/Silver w/clear irridescent beads #22 Silver/Silver w/light blue silver lined beads
#23 Silver/silver w/pearl glass beads with slight purple inner linning
#24 Black/Gold w/gold beads
#25 Black/Gold w/opaque gold glass beads.#26 Black/Silver w/clear sparkle beads.
#27 Black/Gold w/multi color carnival beads:blues,greens,purples and gold irridscent E beads.
#28 Black with dark gray/smoke sparkle beads.

VARIEGATED




#29 Pastel Ombre w/clear pink stripe beads
#30 Pink Variegated threads w/clear pink stripe beads
PURPLE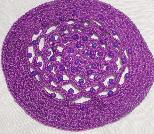 #31 Purple with opaque satin multicolor purple glass beads.
Other colors are available.