Full Size Beaded Yarmulkas - 6"
Size of most Suede Kippot are about this size.
These may look larger as they arive flat but can be smoothed to fit the shape of your head!
(Something other companies can't do!)
Most have 100 plus beads!

"5" Petite also available.
Other sizes available as special orders.

Price on average:

100+ bead style $55 each. (Most of my current 6" styles!)
Metallic Beaded Kippot with high gold content $60 each.
Additional bead styles with fancy beads $75 each.
Larger Kippot by Special Order.

Plus about $5.00 shipping.
Click on Picture to see: a larger picture, description and price.
---
BLACKS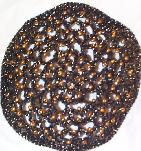 #1 Black/gold w/clear gold beads #2 Black/silver w/clear beads.
#3 Black with multicolor beads.#4 Black/gold w/gold beads.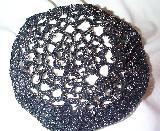 #5 Black Gold/gold metallic with star and clear gold irridescent beads.
Also available in Black with Silver Threads and gray sparkle beads.
#6 Black/Silver w/unusual clear with inner stripe of black beads.
#7 Black/Gold with special amber coated purple beads.
Looks golden amber in some lights and purple in sun light!
#8 Black Gold w/dark carnival beads. (see sample picture above.)
---
WHITES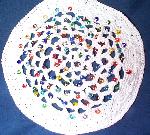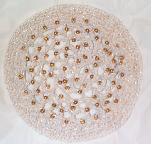 #1 White/pearl w/rainbow beads. #2 White/pearlized w/rainbow beads.
#3 White/red metallic w/red/blue/clear beads.#4 White/gold w/Gold beads





#5 White/pearlized w/multi carnival/irridescent beads. #6 White/Silver w/gray beads.
#7 White/pearlized w/clear irridescent beads.
#8 White Gold/gold opague muted gold bead and 3D star.





#9 White Gold/gold 3D Star with clear gold irridescent beads.
#10 White/Gold with blue satin beads.
#11 White Blue Satin Beads. #12 White/Gold Metallic darker amber sparkle beads.



#13 White/Gold w/silky copper finish glass beads.
---
ECRU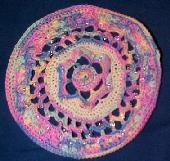 #1 Ecru/pearlized w/mixed European and other rainbow beads
#2 Variegated Pastel Ombre with Ecru, 3d star and clear beads.
#3 Ecru/gold w/clear amber/golden beads.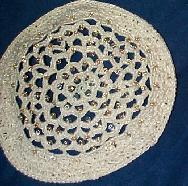 #4 Ecru/gold w/Gold beads
#5 Ecru w/green opaque muted beads.
#6 Ecru/pearlized w/clear gold irridescent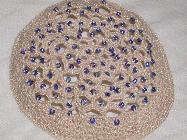 #7 Ecru/pearlized w/opaque purple assorted irridescent beads.
#8 Ecru/pearlized w/royal blue glass beads