Click on Picture to see: a larger picture, description and price.
---
---
Yarmulkahs size 5" to 7"
---

NEW CHENILLE (nylon) NOW IN STOCK. Solids and Multi-colors
Soft feels like a velour or velvet kippah. (Much thinner than those of the discontinued chenille below.) Dressier too!
pictures coming.
---
Example of the multi-colored white to blue chenille yarn.


Custom order family Bris/brit
set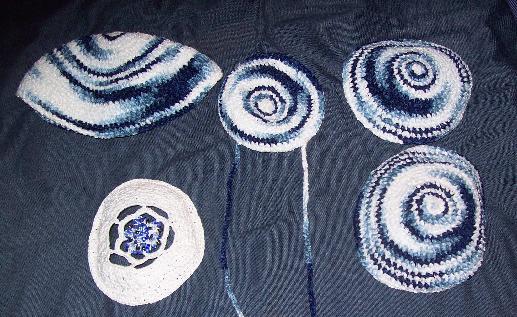 Multi-color white and blue Chenille yarn. (nylon)
Father, grandfather, older brother and brit kippot.
Mother kippah in white pearlized cotton with glass beads.
Prices vary by size of kippot.
Brit kippah chenille with hand crocheted removeable tie, $20 plus shipping
5" chenille $20.00 (introductory special) plus shipping
6" $25.00 (intro price) plus shipping 8" - $35.00 plus shipping (intro price)
Mother kippah white pearlized cotton with assorted glass beads- 5" $45.00 plus shipping.
---
SOLID WEAVE - SINGLE CROCHET
*EXTRA Thick - Chennille Like Yarn
(Some with special borders)

Caution the chenille thread has variegated colors/shaded.
The pictures are often not true to color so please read the description carefully.
Most of these styles in chenille are sold or discountinued but many can be ordered in thick cotton.
email me with your questions.
---

---
CLICK HERE TO PLACE AN ORDER.
All Kippot/Yarmulkas are priced each and shipping is extra.
Special Pages Index Below- Click on underlined word to go to these pages