&copy Chadis Crafts Originals
Knitted Cowl Neck Scarves For Men or Women

To see more pictures of the scarves, see my facebook photo album.
Chadis Crafts Cotton Hand Knitted Scarves
Are Made Using 4 or more 100% cotton yarns/threads plus in some cases another thin metallic yarn/thread!

---

Many other styles and yarns in stock.
Wool, wool blends, Fun Furs, Boucle, Acrylics, Mohair, Mohair/metallic blends and more!
Pictures coming.
---
Do you wear scoop neck, V neck shirts
or just want something extra around your neck with out ties or long hanging things?

Then try Chadis Crafts cowl neck scarves!
The same extra quality and care of Eileen's other hand made crafts.
---
---
What is a cowl neck scarf?
It is knitted (for hours or days!) on round knitting needles making an endless tube.
You wear the tube like a scarf.
Each have a ribbed bottom and top.
some have a crocheted trim.
Each is 11" to 12" long for nice draping around the neck.

Great for dressing up a plain tee shirt, adding a little warmth (It is breathable cotton) or to just add interest to an outfit.
Great for filling up the necks of winter coats.

Perfect for skiing etc as nothing to hit you in the face!
---
All are washable.
---
It also can be pulled over your head as a hood for breezy/chilly days and still protect your neck.

---

Most scarves marked can be special ordered.
---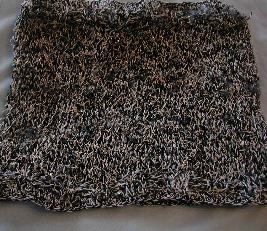 1 black cotton
1 white Cotton
Multistrand man made yarns with muted gold metallic strands, grey black, slight blue/gray fuzzy yarn
total of 5+ yarns)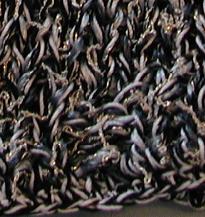 Metallic/fuzzy yarn available in reds, greys, blues, browns and more.
$50.00 plus shipping
---
Color choices and combinations are limitless!

If you see a color in my yarmulkah cottons I can add it to a cowl scarf.
---

Introductory special- metallic thin yarn can be twisted into the cotton for free. $10.00 value.
Many colors and multicolor metallics available see my samples of metallic yarns pages
---
Custom orders are always welcome.
How about my making a scarf with your school colors?

---


2 strands of red cotton
2 strands of multicolor variegated cotton in red, orange, yellow, green, blue , purple.
Striping can vary with each one.
In this cowl the stripe changes in the pattern on the other side to be more red stripes.
unique
Introductory special $45.00 plus shipping
---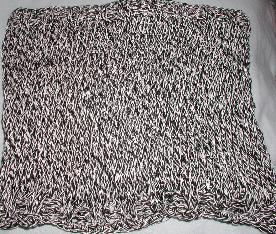 2 strands of black crochet cotton yarn
2 strands of white crochet cotton yarn
4 strands total to make 1 bulk cotton yarn

Introductory special $45.00 plus shipping
---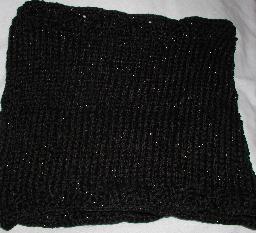 4 strands of 100% cotton crochet yarn/thread
1 thin black metallic hair like yarn
This is the bright specks in the picture.
Subtle delicate glimmer with black on black metallic
Total of 5 strands to make 1 bulk yarn

Introductory special $45.00 plus shipping.
---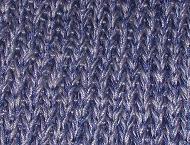 2 strands of navy cotton twisted with 2 strands of chambray(grey) cotton.
4 strands of cotton total
See girl in picture above. This sample is of a crocheted piece using this yarn.
Reminds me of old denim when seen from the distance.
Introductory special $45.00 plus shipping
---
Email me with your questions.eileen@chadiscrafts.com
---