CHADIS CRAFTS AND KIPPOT
HAND CROCHETED YARMULKAHS
WITH
HAND or MACHINE EMBROIDEREDY

All special orders of hand embrodiery are not being taken at this time.
It hurts my carpal tunnel too much and I need to rest my hands.
Funny crocheting and knitting does not hurt except when I put in names.
So I stopped that too.

For years I have been secretly crocheting a limited amount of names into kippot.
I did it because people really asked nice.
Crocheting names etc. really hurts my hands.
Very tight, close work.
The time to graph them out and then count them as I crochet, changing threads every other stitch took forever.
This kind is really an act of love that should be limited to some ones girl friend or grandmother.
The ones I did took me days to finish one kippah!
It is not commercially profitable. But I hated to say no.....
So started offering a pretty alternative, I hand embroidered a name onto one of my finished yarmulkah.
BUT now I have also discontinued hand embroidery, as that too hurt my carpal tunnel.
Out of stock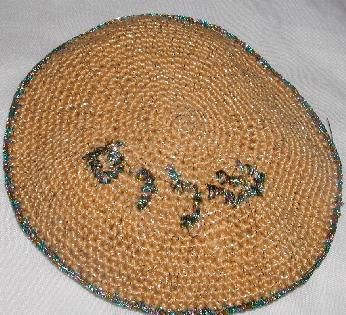 ---
Still looking for a name on a kippah?
Check out Lori's Crafts for machine embroidery on my hand crocheted kippot.
I will deliver my hand crochted yarmulkahs to Lori and pick up the kippah when done.
Then ship it to you.
Only one shipping fee and one person to deal with.

Prices for names depend on number of letters and size of letters or design you want to add.
She has hundreds of colors including metallics.
She would have to quote you the price for the embroidery.

Email her your questions at

loriscrafts@gmail.com
She is so creative!
She is adding a full line of Jewish and other embroidery crafts!
She can embroider Hebrew or English (plus other languages) plus many Judaic and other designs.
Check out her embroidered book marks, lace bowls and wall hangings made of all thread no fabric!
She can custom embroider many items:
attarahs, siddur and chumash covers, kippot, towels etc.
---
Examples of a few of the hand crocheted yarmulkahs with Lori's custom ordered designs

---
These were a set of three yarmulkahs ordered for very young children.
They were made long enough for them to wear with out clips.
Dark Navy blue cotton in a medium weight.
Sturdy and of course washable as are most of my kippot.
Each had the child's name in English on one side and Hebrew on the other.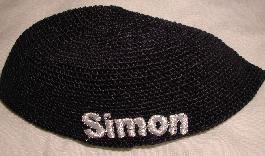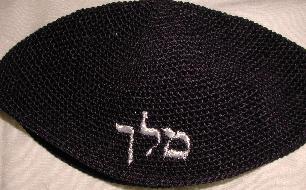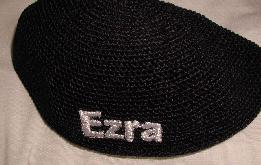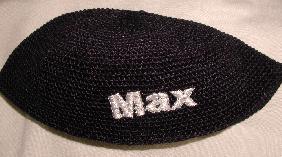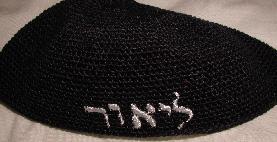 ---
More examples of custom designs
Chadis Crafts Hand Crocheted Kippah with Loriscrafts.com's machine embroidery on top
---
Front and back of same kippah designed by Dr. Jeff's wife as a surprise for him.
Dr. Jeff was on the TV show Biggest Loser2!
A great inspiration to me and others!
Lori and I were honored Doris found us on the web to do this kippah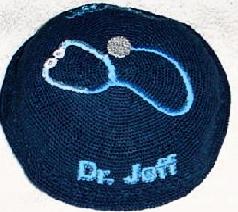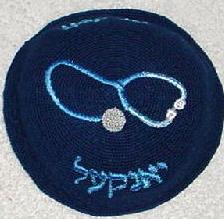 ---
To see a few more of the many kippot I have had her custom machine embroider designs on to my hand crocheted kippot.
---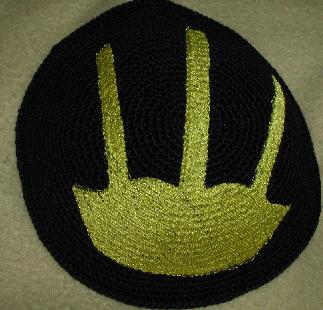 ---
---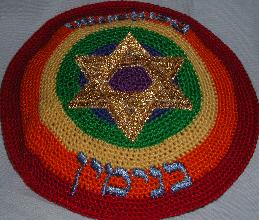 ---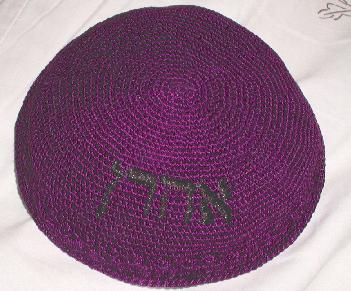 ---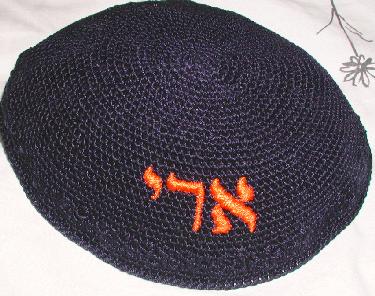 ---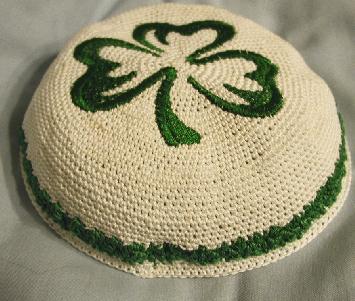 Custom order
Hand crocheted 8" medium white with green shell border.
open shamrock machine embroidered on top of my hand crocheted kippah by Loriscrafts.com
---
White hand crocheted traditional weight yarmulkah .
Crocheted by Eileen of Chadis Crafts and Kippot .
5 1/2"
Price of yarmulkah WITH OUT embroidery $35.00 plus shipping.
Available in 40+ colors
Machine embroidery by http://www.loriscrafts.com
Cost of Machine Embroidered star in royal blue and Shalom in Hebrew
Special price embroidery $20.00 Total $55.00 for hand crocheted yarmulkah with embroidery.
Shipping extra
---
In Stock and for sale.

Jerusalem Star
Machine embroidery on hand crocheted kippot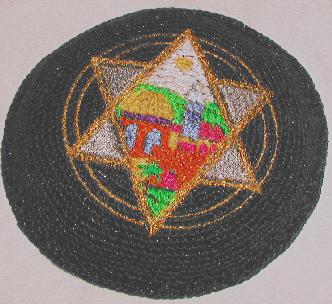 Dark Navy Blue Cotton Hand Crocheted Yarmulkah
Thin black metallic hand twisted into the navy cotton.
Single crocheted with a fancy shell border
6"
Jerusalem star machine embroidered on the hand crocheted yarmulkah by Loriscrafts.com
Introductory Price- $55.00 plus shipping. (regularily $65.00)
---
In stock and for sale
3 D Star with Shalom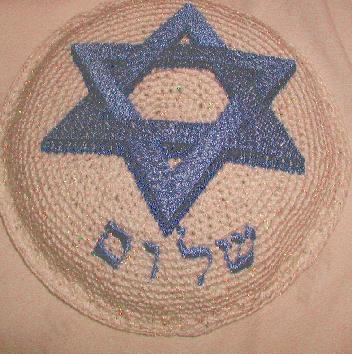 White Cotton Hand Crocheted Yarmulkah
with Pearlized threads hand twisted into the cotton
Single Crocheted with fancy Shell Border
6"
3 D multitonal blue star and shalom in Hebrew
Machine embroidered on the hand crocheted yarmulkah by Loriscrafts.com
Introductory Price - $55.00 plus shipping (regular price $65.00)
---
More examples of custom orders

---
Black cotton with edge of verigated rainbow/primary colors
Orange embroidery with Daddy in English and Hebrew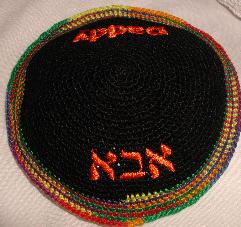 ---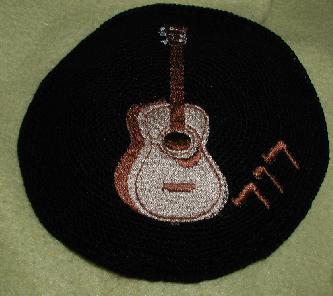 ---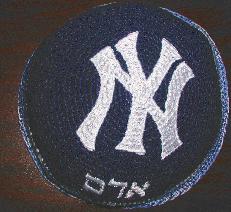 ---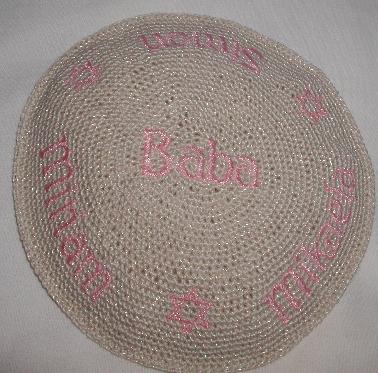 Ecru pearlized kippah with pearlized pink thread
---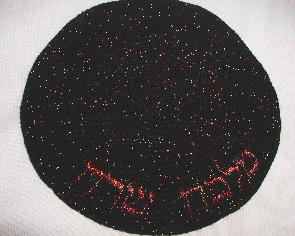 Black cotton kippah with black/copper thin metallic yarn
Copper embroidery thread
---
Machine Embroidered
on my medium weight cotton navy kippot
by Loriscrafts.com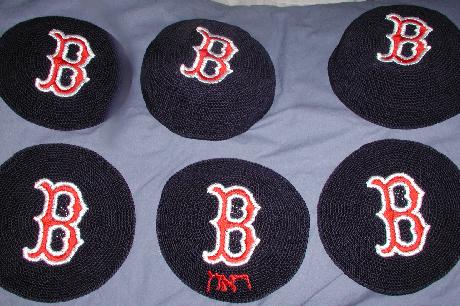 Family set in Sizes from 5" to 8"
---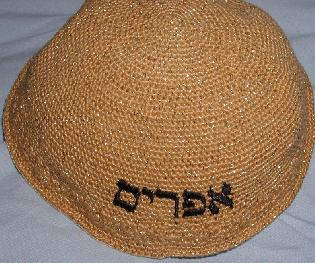 9" Medium weight gold metallic cotton with shell stitch border on edge
---

Same in dark navy medium cotton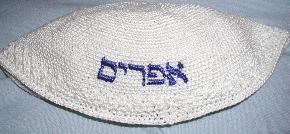 Same in medium white cotton
---
Machine Embroidered Designs on Suede Yarmulkahs
---
---
Lori can also add machine embroidery on SUEDE kippot in English or Hebrew!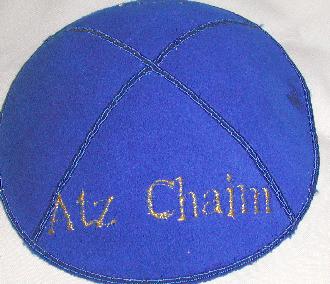 Examples of kippot made for members of our local USY,
Atz Chaim USY Tidewater VA.
Yarmulkah has Atz Chaim in one panel of the kippah and USY on the opposite panel.
Contact Lori for other custom embroidered suede yarmulkahs.


loriscrafts@gmail.com
Lori of loriscrafts.com is a seperate business from
Eileen at chadiscrafts.com who hand crochets the yarmulkahs.
---