CHADIS CRAFTS AND KIPPOT

HAND CROCHETED BAR & BAT MITZVAH HEADCOVERINGS AND PRESENTS
Gifts and Special Orders For The Special Bar & Bat Mitzvah Teen


I HAND CROCHETED special heirloom like headcovers for the VERY SPECIAL Bat Mitzvah Girl and her Family members etc.
To see suggestions of sets for these family members see
my Simcah family page.
---
I do only a few select bulk orders in a year.
For bulk orders of 12 to 150,
I need ADVANCE ordering.
Some orders take me months to make depending
on the size of yarn and size of kippot.
See my bulk pages for more info.
To see companies that sell bulk:
satin, suede, Bar and Bat Mitzvah gifts and supplies etc see
my Web Links pages.
---
Special services I offer:
Special orders including matching threads to the outfit
she will be wearing on her special day.
Matching Kippot with her tallit,
if your tradition has Bat mitzvah teens wearing them.
You email me the description or picture of her tallit
and I crochet a kippah that has similar colors to her tallit.
This includes adding beads that match the one or all of the colors in the tallit.
I TRY and keep lists of my orders,
so a guest can check if a teen has ordered a special kippot or gift for themselves.
This allows friends to match a gift to their special kippot.
Some Examples of Gifts/Sets That Can Be Custom Ordered
For Your Special Teen/Friend
Presents can be now ordered with a
golden pewter or pewter BAT MITZVAH GIRL Charm.
BAR MITZVAH BOY Charm also available.

Pair of kippot with hair clips custom matched to a light purple tallit.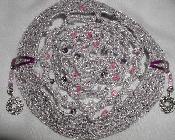 Both Kippot have hand twisted metallics added to the cotton threads.
Top Light purple with silver twist.
Bottom Silver/Silver thread with hand twisted light purple metallic.
Prices for special order kippot vary but these kippot
were both 5" kippot with hand twisted metallics.
Price $50.00 each plus shipping.
The Clips to match are usually $9.50 to $12.00 a set plus shipping.
(Only one shipping price is included with multi item orders.)
---
Small Teen Size Tallit Clip With Matching Glass Beads to the above kippot.


Prices vary depending on length, number of beads and pewter charms/caps.
This tallit clip was $20.00 Plus shipping.
To special order this one call it style #Special Bat Mitzvah Clip with Pewter Star
To see other styles of tallit clips.



Bat Mitvah Girl Charm!

Also Bar Mitzvah boy- both in pewter and golden pewter.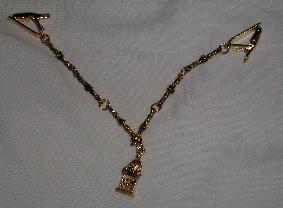 ---
Dangle Earrings and Small Sparkle Bobbie Pin Sets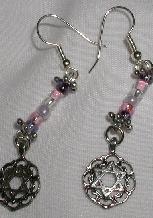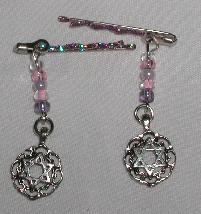 Most bobbie pins and earrings are $9.50 to $12.00 a set plus shipping.
To see more bobbie pins or more hair clips.
To see more earrings.

---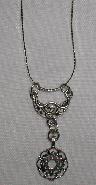 Sterling 18" Box Chain with Pewter Leaf Connector and Pewter Star of David
---
16" chains and 7" sterling bracelets are also available.
Most styles of Sterling Chains and Bracelets cost between $7.00 to $20.00 each plus shipping.
To see more chains and bracelets.
---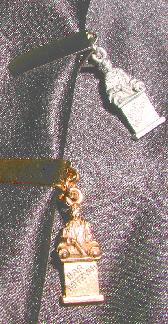 Small tie bars with golden pewter or pewter Bar Mitzvah charm
Other Tie Bars also available.
---
Gifts and Supplies for a special Bat Mitzvah Teen.
A special hand crocheted kippah/yarmulkah.
Some of the types I can make for your special Teen are:
Solid/traditional round kippah.
Petite sizes - 5" size is the most popular.
Lace
Half Kippah - fits in front of pony tail etc.
Beaded Kippah
and more.
Tallit clips in beaded, wire crocheted, pewter links, charmed and more styles.
Hair jewelry for those that do not want to wear a kippah
or want to have special clips for their kippah. Bobbie pins or clip styles available.
Matching earrings of beads/charms.
---
Charm dangles, cell phone charms, zipper pulls and more
To see more of these go to Jewish crafts pages
---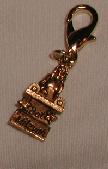 #12JGP Bat Mitzvah Dangle
same in Pewter - #13JP Bat Mitvah Dangle
---
#14JGP Golden Pewter Bar Mitzvah Dangle
#15JP Pewter Bar Mitzvah Dangle
---
---
For more gift or party favor ideas see my weblinks pages.
---
PARTY FAVORS IN BULK
---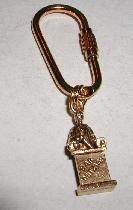 Key Chains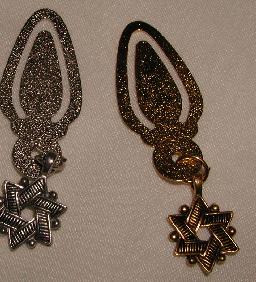 Bookmarks (Without beads.)

Great to decorate a seating place card.
With a Bar or Bat Mitzvah Pewter or Golden Pewter Charm
or with your choice of charms.

Teen into music or and instrument?
Check out my music and Klezmer charms.

Both can be ordered at a special dozen price.

Email me for prices.
---
Resin Jewelry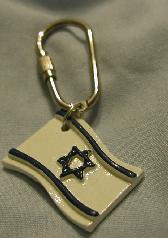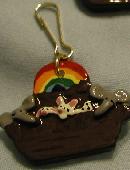 Resin Jewelry is now available by the dozens or in bulk for party favors.
Key chains, dangles for bookbags, bookmarks and more.
---
Gifts for the teen can include the above items but also available are:
Sterling Necklaces.
Sterling or Pewter Bracelets
Pins
and of course MORE!

Bar Mitzvah Teens:


Tie Bars
Tallit Clips
Necklaces
Key Chains
and More!

Additional Services that Chadis Crafts Offer the Bar/Bat Mitzvah Family:

Honor the Bat Mitzvah Girl, her siblings, Mother and Grandmothers.
Matching thread and beads.
Matching Threads but different beads.
Featuring the color the family has chosen for her special day.

Sets also available for:

Bar Mitzvahs and the Men in the family.
Sets are also available for bridesmaids and ushers. See Simcha page.
---
---
Bat Mitzvah Charm Jewelry
---
#1JBat EAR & #2JBAT EAR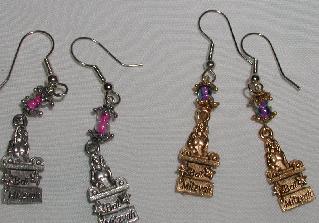 New Bat Mitzvah Charms.
#1JBAT EAR
Pewter Charm and Bead Caps
Clear E glass beads with pink centers.
#2JBAT EAR
Golden Pewter Charm and Bead Caps
Round blue beads with purple center
Special $12.00 pair plus shipping.
---

#3JBAT Ear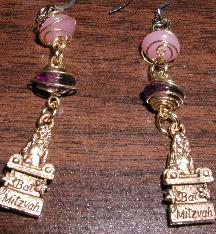 opaque pink and clear purple wired glass beads
Golden pewter Bat Mitvah girl
Special $14.00 pair plus shipping
---

#4JBat Ear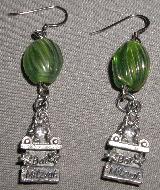 Light green irridescent oval swirl glass beads
Pewter Bat Mitzvah charms
Special $12.00 plus shipping
---
#5JBAT EAR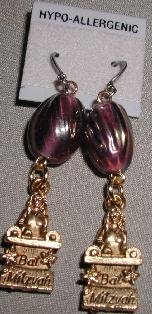 Golden pewter charms
Dark purple swirl irridescent glass beads
Special $12.00 each plus shipping
---
#6JBATMOPSTAR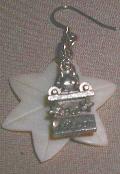 Mother of pearl etched star
Pewter Bat Mitzvah charm
$18.00 pair plus shipping.
---
New Bat Mitzvah Charm Bracelets.

Also available in goldtone link bracelet.
#1RL BAT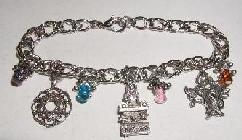 Pewter Star, Tree of Life/Chai and Bat Mitzvah Charms
Pewter Bead Caps
Assorted glass beads
Special $24.00 plus shipping.
---
#7RL



Pewter Torah, Tree of Life/Chai and Bat Mitzvah Charms
Pewter Bead Caps
Assorted glass beads
Special $24.00 plus shipping.
---
#8RL


Pewter mazel, tree/chai, Bat, Torah and Hand
Special $24.00 plus shipping.
---
#1GT



Golden Pewter hand, tree/chai, bat, torah and mazel
$24.00 plus shipping
---
#2GT



Golden Pewter Charms: star, Bat and chai/tree of life
Golden pewter bead caps
assorted glass beads
$24.00 plus shipping
---

To see more charm bracelets or to custom order one.
Click here.
---