Who am I?
---
My name is Eileen CHADIS Wood
(Mrs. Stephen A. Wood)
We have two sons ages 25 and 22.
I have been working/teaching in the field of crafts on and off for 35 years.
I taught at the the United Jewish Community of the Virginia Peninsula, UJCVP summer camp for 6 summers. (Camp Chaverim)
I have been teaching each spring a weekly after school craft class
at Sarfan early childhood center for the past 15+ years.
Having lived most of my life in Chelsea, MA. I spent 2 1/2 years in Champaign IL.
and the last 23 years in Newport News, VA.
I am a former teacher/administrator in the field of Adult Basic Education and Literacy.
With the move to VA, I have tried to "retire". Which in reality meant:
I was volunteering or getting paid little , but enjoying it.
My main love is to do community service work mainly at the UJCVP and Rodef Sholom Temple. Where I have been : chairing some of their education committees, helping with fundraising (including the annual JCC 5K Race) plus a member of the Temple Board.
For all of this, I was presented the UJCVP 1997-98 Community Service Award.
In 2007-09, I chaired a volunter commitee for the Ferguson Center for the Arts which is a incredible set of concert halls in Newport News VA at Christopher Newport University. . It is for Community Outreach to bring "Arts for All". I orgainize community and neighborhood groups to attend events at the Ferguson Center. It is very rewarding, as many of the groups are schools and senior citizens. The committee helps them get discounted and sometimes free tickets to many cultural events. Many of them would not have been able to attend with out our help. Operas, concerts, plays etc. Kept me very busy. I still do volunteer with the group sales but with a smaller role.
At the end of summer 1998, my students at camp started to drive me crazy.
They wanted more crafts they could do at home. Mainly beadie animals that were then the crazy.
Most web addresses where really long!
I got tired of writing address down for them only to hear they could not get them to work.
(They typed them wrong.) I then started a web page for them, their teachers and parents called: Eileen's Camp Crafts and Other Fun Things
I soon realized that I could use this Educational site to answer the many requests I receive for help for local preschools, sunday schools and others.
I have been adding links and info to my site on an regularily over the last 14 years!
It has now grown to 50+ pages and 1000's of links and lessons!
---
WHY CHADIS CRAFTS FUN PAGES?
Eileen's Camp Crafts and Other Fun Things! was conceived as a site for safe web traveling.
Mainly for teens interested in crafts, fun sites and homework help.
It has grown as a source for teachers of all types:
Sunday School (Christian, Jewish and more!), Bible Camps, Camp couselors, Day Schools,
Librarians, Scouts, preschool, homeschool, elementary and secondary.
It also has become a source for Jewish crafters of all ages as well as crafters of all religions.
So, it became confusing to use the Camp Crafts title.
BUT Eileen's Camp Crafts have been linked by hundreds of sites and the name refuses to go away.
Therefore I could not just change it.
Thus my business, Chadis Crafts, is paying to keep the ever expanding site online.
But both names have to be used for all of the Camp Crafts fans to not be confused.
---
Hopefully Chadis Crafts and Chadis Crafts' Fun Pages
will finally explain to all of my friends and relatives across the country,
what I am doing with my "spare time" as a stay at home mom!
---
Don't miss Eileen Chadis Wood's
Articles for ShalomBoston.com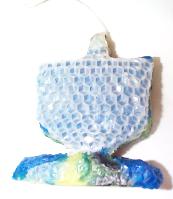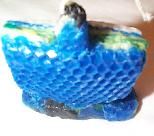 There are more of my own Chanukah craft ideas featured in the 2000 article on Shalom Boston's Web site.
If you are planning to visit Boston or live there,
check them out they really help you get around Jewish Boston and New England.
---
Why Chadis Crafts and Kippot?
Everytime there was a Chanukah craft fair, Israeli Festival or just a neighborhood craft fair,
I would get a call asking me to sell my crafts.
Everyone assumed if I teach crafts, then I must also sell them!

At first small temples called asking me to do a Mitvah and set up.
So I would work hard for a few weeks and make some crafts in friendly plastic and polymer.
At the same time as this, some women from our Temple visited a few Jewish stores.
They saw the great "women" kippot/headcoverings.
I mentioned I could make them probably better and may be for less money.
(Eliminating the middle man/woman.)
Chadis Crafts was born.

Why the world wide web?
I love to crochet and there just so many people needing a new or fancy kippot in the Tidewater/Peninsula area. So....

I really enjoy helping people find special things for their Bar/Bat Mitzvahs and Weddings and their ritual wear.
I take pride in my work and feel I am making future family heirlooms.
MORE CRAFTS?
Since I love to crochet, everyone assumed I loved to knit and sew.
It had been years since I knitted.
Projects took so long!

Now with all of the new speciality yarns especially the fun fur, I quickly got addicted to knitting!
It gives my hands a break from the tight crocheting and little metal needles I use.
Both are great substitutes for house cleaning!
So now I am constantly trying to design new knitted accessories.
I am having fun with all of the colors, textures and combinations of yarns.
---
FUTURE CRAFTS
I am hoping to expand my polymer clay gifts and jewelry items.
I am also hoping to learn more about the art clay and precious metal clay that turns to real silver.
Keep checking back!
You never know what I will start playing with next!
---
Upcoming Shows to see

Eileen and Chadis Crafts in person I only do a few shows a year.
They tire me out!
Schedule of upcoming events: See you during Chanukah/Christmas season.
---
Now please go back to checking out my ever changing site... ENJOY.
---
Shalom Y'ALL!
---