Our family Simchas
We are including some information about our family simchas with some links that helped us.
---
Ronin's Bar Mitzvah


My son Ronin was called to become a Bar Mitzvah on Jan. 19, 2002.

We are very proud of him!

In honor of his Bar Mitzvah, I am posting some information and ideas that I hope will help other Bar or Bat Mitzvah family members plan their own simcha.
This information will also help people plan weddings.

Check out the links on this page for where to buy imprinted kippot, tallits etc.

Also see:

Chadis Crafts Fun Pages for ideas on making your own tallit, clay covered yads, center pieces, embossing your invitations etc and more!

See to see pictures of a tallit I beaded and trimmed for myself.
---
Ronin was very lucky.
He received two tallit as presents.
A lovely traditional one from my Dad's Rabbi in Chelsea, MA. Plus one from my Dad which Ronin picked out himself at Afikomen-Jewish Books and Art in Berkely CA.
It is an unusual hand painted silk.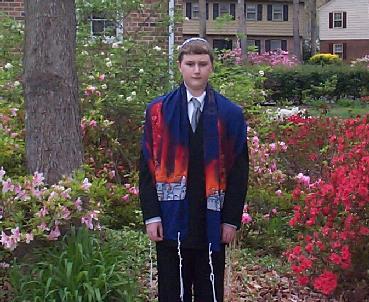 Ronin in our back yard the spring after his Bar Mitzvah.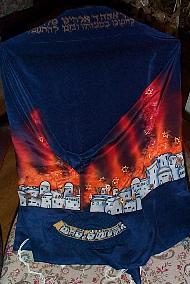 Finally found the designer's web page. Silk Bijoux.
They have even more than pictured online.


I crocheted a thick cotton Jerusalem scene kippah to match.

(No don't ask to buy one like this! An act of love...Too much work and sore hand!
---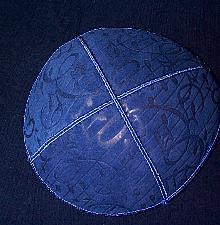 These are the great suede embossed kippot I ordered for our guests at our son's bar mitvzah!

Embossed with music notes.
I got them from Mazeltops.com.
They were imprinted inside in gold with his name and bar mitzvah date.
They were a huge hit!

I made many hand crocheted kippot as gifts for all of the ladies in our family.
Plus many of the men that needed larger size kippot.
---
All of the guests at our evening party rolled beeswax Havdallah candles I had precut for our Havdallah service.
See Chadis Crafts fun pages for directions.

Also many guests made beaded bracelets and key chains while some others were singing Kareoke.

I bought the shalom beads, basketballs and butterfly ceramic beads from Judiaca 1-800-dreidel

I also bought some large plastic star picks, bar mitzvah flag picks and star cup cake cups from here.
See to see pictures of these.

Also on this page are pictures of 24 challah covers he painted and donated to use as center pieces by our temple. He used fabric paint using a foot pump and blow pens plus glitter fabric paint.

---
For the evening party, instead of a candle lighting ceremony.
We had a family tree ceremony.

Lauree at 1800dreidel.com sent me a few presents for Ronin.

10 gold and silver lucite leaves!

She knew I was too cheap/broke to buy the full gorgeous tree set she sells. She sent me the leaves to see what craft I would come up with! The flash did not work well but here is the first picture.


I bought a gold and silver wooden framed mirror. Micah (age 10) and I (forget my age!) used stain glass paint and gold/plastic stain glass window tape to make a family tree.

We listed with markers: both sets of Ronin's grandparents, his father and his siblings, me, plus his brother and his first cousins.

We attached with double stick tape.
It came out great!

Full directions will be posted on Chadis Crafts Fun Pages soon.
---
Lauree also sent a gold on blue metal magnet with Ronin's bar mitzvah date. What a great idea that would have been about a year ago to send out to future guests to hold the date open! We emailed many to hold that date but many relatives still are not on the net!
---
Micah's Bar Mitzvah
Aug. 7, 2004

Micah and Eileen


Micah and Eileen (mostly Micah) wove this wool tallit at the United Jewish Community Center of the Virginia Peninsula in the summer of 2001 when Micah was only 11.

Micah is now taller than his mom!
See picture below.
I finally decided to have the attarah machine embrodiered as embrodiery is hurting my hands.

Eileen, Micah and Steve wearing their new tallitot.
Eileen wove hers and Steve's.
NO! She will not be making tallit for sale.
---
Need to order craft supplies, party supplies etc.?
I am an affiliate for a few select sites that I think you will find helpful.
An affiliate means if you click on the link below, and order in a couple of days, I recieve a SMALL commission for your visiting this business.
This commission helps to pay for the cost of my running my free educational sites on Chadis Crafts.com's Fun Pages.
That site is an act of love/tzedakah that provides free lessons to children, parents teachers and more in crafts and fun things.
It still has expenses that my business also helps to pay for as it's main sponsor.
My Fun Pages are now over 50 pages long, thousands of links and lots of my own free lessons!
---
My Favorite Jewish Web Sites:
---
CHADIS CRAFTS AND KIPPOT sponsors the award winning: Eileen's Favorite Camp Crafts and Other Fun Things!
Now called Chadis Crafts' Fun Pages

My other site. This includes my unique crafts and links to 100's of craft and fun sites (educational and games) of Jewish and General interest. Includes:

beadie animals,
Jewish Beadie/Pony Bead Projects (My originals)
clay
braiding
needlework
Jewish holidays
fun/educational site. for children.

Charity (Tzedakah) Crafts and stores that give to charities.

It was designed to be helpful for parents and teachers. Each site is indexed with many pointers to help children and adults naviagate large sites.
---
---
The United Jewish Community Center of the Virginia Peninsula.
For Information about the Virginia Peninsula, the Jewish Community Center
---
Over 300 Jewish Links Page. Has some interesting links not easily found especially for Jewish Publishers and stores plus links to all areas of Jewish Interests.
---
---
SEND Free E-Cards
Say Mazel Tov to your Bar and Bat Mitzvah teens, weddings, bris and more. Free electronic greeting cards.
---
---
Have a Jewish Web page and want me to link to you? email Eileen.

---

Want to link to chadiscrafts.com?
---
Jewish Web Searches

Great places to find Jewish and Israeli sites of ALL kinds.
---
---
---
---
---

---
---
Don't miss Eileen Chadis Wood's
Articles for ShalomBoston.com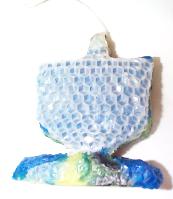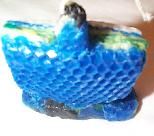 Chanukah Crafts and Starting Your Own Family Tradition (Chanukah 2000) with new Family Traditions and Chanukah Crafts (Chanukah 2001)Plus Chanukah Crafts to Make. that includes how to make layered bees wax candles for table decorations for Chanukah and other ideas.

There are more of my own Chanukah craft ideas featured in the 2000 article on Shalom Boston's Web site.

There are many other articles by Eileen on this site.

Check out their great Holiday tips, Chanukah links, articles, recipes, community guide, calendar and more!

If you are planning to visit Boston or live there,check them out they really help you get around Jewish Boston and New England.
---
---
To make your own beeswax and other candles, check out



Genwax.com
They carry many waxes including beeswax sheets.


CHADIS CRAFTS AND KIPPOT
FAVORITE JEWISH WEB LINKS PAGE.
---

For Jewish and Non Jewish Craft Supplies and Catalogs see my new page:
---
---
JEWISH and SPECIAL EVENTS (SIMCHA) BUSINESS LINKS:
Wedding, Bar/Bat Mitzvah and Gift Products:
Kippot, Party Supplies, Favors and Other Things!
Chadis Crafts
My site for Yarmulkas/Kippot, Mezzuzahs, gift certificates and more. I have special prices for people ordering for family sets. Design your own crocheted kippot sets: Bat mitzvah girl, sisters, grandmothers, mother etc. Special kippot for father, brothers etc. Wedding sets: groom and attendents, Bride, mother, grandmother, attendants etc.

Chadis Crafts can help you make PARTY FAVORS for your simchas or gifts for your wedding attendants. Bookmarks, key chains etc. can be ordered in bulk. email me for price quotes.
eileen@chadiscrafts.com
---
Need lots of Kippot? Imprinting? Special Painting? Suede or Satin? Single or Hundreds? Want imprinting on party favors, candy wrappers etc.? Check these sites for Kippot:
---
Mazeltops.com
Mazel Tops Yarmulkes.
Hand Painted Yarmulkas.
Each yarmulke is handpainted by the artist. You choose the color and design and then each yarmulke is personalized with a name in Hebrew, English or both. There is a wide variety of designs to choose from or choose your own favorite team, logo or character to be put on. The designs range from contemporary fun to very traditional. Perfect for any occasion. Look for the special Grandfather and Dad's kippah which features the names of all the grandchildren or children in the center of a very beautiful Torah design. Also, if you are looking for imprinted suede and leather Kippahs for weddings or Bar Mitzvahs, that service is offered as well. She also offers a non Jewish item of Book Looks - unique stretch fabric book covers for all of your school needs.
---
Mazeltovfavors.com
Bar/bat mitzvah decorations, wedding items and many items that can be imprinted. Including candy! Please tell them I sent you.
---
(new name) Candy Under Cover
Offers personalized candy wrappers of Hershey Chocolate for Weddings, Bar or Bat Mitzvah, Graduations etc.
---
SureGlow.com
Party Supplies, Glowsticks, Glow Necklaces, Magnetic Flashing Lights and more!
They have many interesting items for Bar and Bat Mitzvah party planners.
---
Celebrateinvitations.com
Celebrate! Since 1991, they have offered invitations for births, weddings, Bar and Bat Mitzvah, stationery, holiday cards and more!
---
Bulkpartysupplies.com
Bulk Party Supplies.com offers paper goods. plastic plates, Plastic and Paper table clothes, rolls, skirting and more in solid colors and some prints. Also offers theme party supplies. From their site you can also go to their other sites for bulk candy, bulk toys and balloons. Company pricing is great especially for larger parties. They have supplies for weddings too. I found some great balloons for Bar and Bat Mitzvah at this site and others they recommend.
---

Balloons123.com
Offers many balloons for all occasions including weddings and Bar/Bat Mitzvahs.
---

Enternainment for Events and Bar/Bat Mitzvahs
---
Lerner Sports Marketing
Represents active and retired professional athletes and sports celebrities who are available to attend Bar/Bat Mitzvah receptions and other parties and celebrations as special guests to entertain with sports stories and to autograph photos and memorabilia.
---
---
Tallits and other things!
---
Precious Heirlooms Inc.
Vibrantly colorful appliqued Tallitot, Challah/Matzah covers, Chuppot, and Synagogue art. Including appliqued Torah mantles & ark curtains. Are among the wonderful creations designed by artists Renee Savitz and Ellyn Shain.
---
The Israel Book Shop, Inc.
New England's oldest and largest supplier of Jewish Books, Art, Music and Gifts.(finally is online but only in a small way!) They also are feature some of my beaded kippot in their store in Brookline MA.
---
Israel Craft.com
Offers silk painted tallits. Great looking. A customer told me about this site after she bought one of my beaded kippot to go with her daughter tallit. Beautiful tallits, challah covers and Matzah Cover sets.
---
Nancy Katz Textile Artist. Incredible Chupash, Tallits, Synagogue art and more.
---
Gabrieli.com
Israeli tallit company know for its hand woven silk, wool and cotton tallits.
---

Silk Bijoux
The website for the designer that made my son's silk tallit. (See on the left the picture of Ronin's tallit)
Great new look for their website. Have many more pictures and also sell challah covers and silk scarfs and more!
---


Galilee Silks.com
Direct from Kibbutz Beit Haemek, Israel.
Tallits, challah covers, matzah covers, tableclothes, scarfs, clothes and accessories made of hand dyed silk.
---
Jewish Shopping Mall
Full Judaica store.
---
Machine Embroidery for Attrahs, Kippot, Gifts etc
---
Lori's Crafts
Lori's Fabric crafts (one of my visiting artists) has a new website of her own at http://www.loriscrafts.com
She is now adding machine embroidery crafts to her site.
A talented seamstress and fabric craft designer with a great eye for craftmanship and creativity, she has just made a major investment in her business of an embroidery machine. She can now custom make embroidery lace and crafts as well as to decorate existing items (Kippot, attarahs etc). She can add many languages to her work including English and Hebrew text. She also has hundreds of patterns of designs in Judaica, Asian and Pop culture.
She is also willing to decorate my finished hand crocheted kippot!
---
Mark Elliot Monograms.
Machine embroiders in English or Hebrew. Including your own attarahs etc. Also can embrodier on many other items. For those of you that have woven your own tallit and need your attarah embrodiered or other religous items.
---
Jewish Craft Kits, Materials and More!
Updated!
1-800-dreidel, They carry Jewish and other gifts, crafts, kits, and gifts for home decorations and simchas. They have some really cute stuff. Plus Jewish FABRIC and premade clothes. Jewish FABRIC for fun and serious projects. I have to say that I have personally found this company extremely helpful and kind!
---
Candlylandcrafts.com
Offers candy making supplies and molds. Many Jewish ones. They say many of the candy and chocolates are kosher but you will need to ask. They also sell soap making supplies. Buy extra molds and use for plaster or other crafts. Their Torah molds are perfect for make your own decorations and candy for bar/bat mitzvahs. They also have wedding decorations.
---

The CraftyNeedle (California Stitchery)
As California Stitchery, they been in business for over 22 years. They now have new owners and moved to Florida. They have many new items. They are constantly adding more designs to their extensive collection of handpainted needlepoint kits for Tallis Bags and Tallis (attarahs)collars. You'll also find: stamped cross stitch, counted cross stitch, crewel embroidery, paint by number, longstitch, crochet, latch hook, and any other kind of stitchery here. They also do custom designs.
---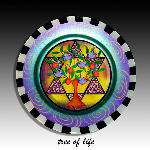 Marsha Anderson's Servuplates
Creative Artist.
Beautiful glass painted plates for Shabbat and many holidays.
---


Goldie Silvergerg's Fine Art and Judaica
Incredible artist! Ketubahs, Family trees, paper cuts and more. She also has a site for Paper cutting and paper cutting kits. Including free lessons.
---
Jewish Software.com

Visit their site for great Jewish Software.
They offer a full line of Jewish Software to help prepare a student for a Bar or Bat Mitzvah, continuing education after or just fun software.
They have great Jewish clip art for all of your scrapbooking and craft needs.

They often have a FREE CD Special.
NO PURCHASE NECESSARY! JUST PAY SHIPPING!
Supplies are limited so hurry!

---
---
More great gifts
PearlStop.com
New links for new website. Company has been doing business in California for 40 years! Pearls and other fine jewelry. Has great pearl jewelry for brides, gifts for men and women.
---
Sabbathlights.com
Shabbat Lights offers incredible GLASS CANDLES that use liquid parafin. They come in two beautiful shapes and fit most conventional candlesticks. They can be adjusted to burn between 2 and 6 hours. They would make a wonderful wedding, bar/bat mitzvah gift or just something special for yourself! We love ours!

Shabbath Lights is now offering 99% parafin in colors! You can order your refills of parafin in clear, blue, green, purple and one more color. Great to give atmosphere and really nice with their new Channukah oil lights sets.
---
Mr. Tablecloth.inc
Table cloths from their store in St. Thomas U.S. Virgin Islands.
Incredible table cloths, placemats, clothing. All materials and sizes. Many of them are great for wedding gifts, special occasions but others are just perfect for home entertaining or Shabbat.
---
Jenni Bick Bookbinding
Custom and Handmade books and more! Great wedding and Bar/Bat Mitzvah gifts. Leather Photo albums, journals, hand made photo albums and journals, guestbooks, picture frames, scrap books and more! Very usual plus she uses hand made paper in many of her designs.
---
Small Signs.com
Ceramic Hebrew Nameplates and Home blessings.
Israeli company also makes name plates for Births at Jewish Baby Names.net, Mizrach signs at Mizrach.net, Bar and Bat Mitzvah plaques at Barmitzvahgift.com and small Judaica at Small Judaica.com. When I think of my trips to Israel, I think of the door plaque I brought back. Now you can order them over the web too.
---
Caspi Silver
Caspi Silver of Israel manufactures a variety of attractive, decorative & pratical Sterling silver: Jewelry,Gifts,Judaica and much more.
---
Giuseppi Crystal
Great quality in glass sculptures. Glass roses, rose oil, himmingbirds, kiss earrings and necklaces. Great for gifts.
---
People Platters.com
Unusual gift Items. Custom designed personalized platters in clay with people motifs. Do your family tree, remember a family event, Baby's Birth, Bar or Bat Mitzvah, Wedding or some other special day.
---
Judaica for Kids
Has lots of gift items, toys etc.
---
ZYZYXonline.com
Online store for a company that has two stores in Maryland. (Baltimore and Bethesda) Wonderful gifts for weddings and bar/bat mitzvahs. Unusual Judaica and homeware. Features hundreds of artists and craftsman of galary quality.
---
Shlock Rock.com
The great Jewish Rock and Roll band now has a web site. You can buy all of their cd's, tapes, videos and sheet music of this group plus there is fun and educational parts to their site.
---