WELCOME TO CHADIS CRAFTS.
HEADCOVERING SIZING INFORMATION PAGE
JUST LIKE BUYING A HAT, A KIPPAH CAN HAVE DIFFERENT WIDTHS.
THEY CAN ALSO HAVE DIFFERENT SHAPES LIKE: FLAT, DOME, HEAD HUGING ETC
WITH LARGER YARMULKAHS, BUT ESPECIALLY FULL HEAD COVERS, PART OF THE DESIGN IS TO KNOW HOW WIDE TO MAKE THE KIPPAH.
KIPPOT OR YARMULKES CAN BE DESIGNED TO FIT YOUR HEAD SHAPE.
All of my yarmulkahs are hand crocheted. But To compare my sizes to a kippah you usually wear, please note that Standard satin Yarmulkas/Kippot are domed shape and are 8" in Diameter.
Standard leather/suede kippot are usually 2 sizes = 6" and 7".
My Kippot are NEVER starched so most can be smoothed to fit the shape of your head.
Most round flatish kippot are measured as you would a diameter of a circle.
Most longer kippot (8" or larger) are measured by folding in half, then measuring the radius times 2. (Because of the curves)
---
My Kippot are:
4" (Bris/Brit)
5" to 5 1/2" Petite ladies or small man's.
6" to 6 1/2" Average woman's or average crocheted man's
7"-7 1/2" Large womans or slightly above average man's.
Still needs clips or something to hold it on your head.
The following needs no pins for most men's styles but would need a comb or clips for ladies:
8" to 8 1/2" Large
9" to 10" Extra Large.
11" and 12" Extra Large Full Head covering for most.
13" to 14" Extra Extra Large FULL HEAD cover
Sizing is really a personal preference. I have seen children in Extra large kippot and Adults in Extra small.
I also can make most styles in different sizes and colors.
---

NOT SURE WHAT SIZE YOU WANT?

---
DECIDE WHERE YOU WOULD NORMALLY CENTER THE TOP OF YOUR KIPPOT.
TAKE YOUR TAPE MEASURE FROM THE BACK TO THE FRONT OF YOUR HEAD AT THE POINT YOU WANT THE KIPPAH TO STOP.
THIS MEASUREMENT TELLS YOU WHAT SIZE YOU WANT.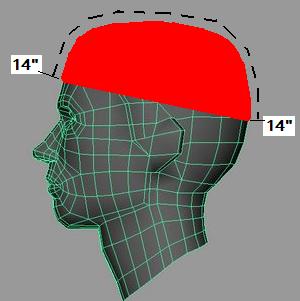 Drawing by my customer George. Thanks
He wanted a full head cover which in his case was a 14".
Your measurements for your yarmulkah that won't need clips would be anywhere from 8" to 14+".
It is important that once you decide what size you want the kippah, you measure around your head at that point.
So in this example George went around his head at the 14" point and came up with his final measuremets of 24"
---
HOW TO MEASURE YOUR HEAD TO GET THE CORRECT WIDTH
---
TAKE A TAPE MEASURE, STRING OR YARN AND MEASURE THE CIRCUMFERANCE OF YOUR HEAD AT THE POINT YOU WANT THE KIPPAH TO STOP=Length=Size.
The width meaurement should be something like 18" to 25".
On the diagram above he would have measured at the point where the number 14 is on the diagram.
The bottom of the red part of the yarmulkah.
---
Pricing a yarmulkah.
Price for your yarmulkah can vary by thickness of cotton used and the size of the kippah.
Thicker cotton can take me a little quicker to make so a little less expensive.
Not always though, as the actual cost of thicker cotton may be more expensive.
Each 1/2" of length on larger yarmulkahs can take me 1 hour or so to crochet.
Some 14" kippot can take me 10 or more hours to crochet!
---
GIFT CERTIFICATES ARE AVAILABLE
---

TO RETURN TO YARMULKAH HOME PAGE
---
CLICK HERE TO PLACE AN ORDER.
All Kippot/Yarmulkas are priced each and shipping is extra.
Special Pages Index Below- Click on underlined word to go to these pages