Styles - #K15 Sizes 7"

Perfect for Bar or Bat Mizvah Teen.

Great for Grooms and Attendents

Also perfect for those people that like wearing white for Rosh Hashana!

Also available in Ecru (off white/beige), Black, Gold and other colors.Email me for special prices for group orders.


eileen@chadiscrafts.com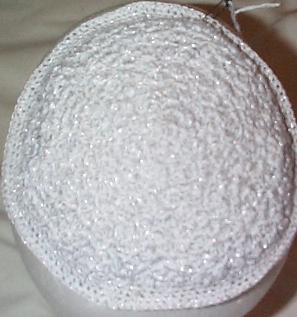 White with silver metallic.
Shell stitch with single crochet border.
Size 7 Inches diameter (A little oversized.)
Price: $45.00 each plus shipping.
5" Special $35.00 plus shipping
6" $40.00 plus shipping
---


#KWGshellwedding 10"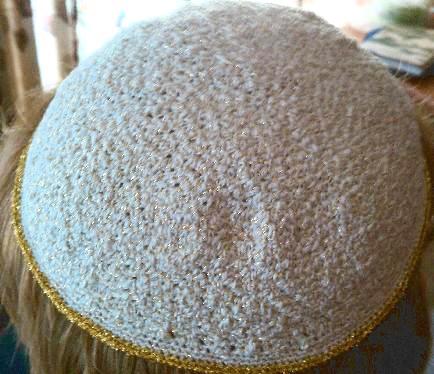 Custom designed for a recent wedding where the groom had a shaved head so needed a kippah that did not need clips.

Traditional weight (thin)White cotton with gold metallic flecks
Shell stitch for incredible hand crocheted look.
Gold metallic yarn trim
10" wide fit to sit flat on a larger head.
$60.00 plus shipping.

This style can be ordered in many colors including ecru pearlized, white/pearlized,White/silver and more.
---
Style #KBlack Black Metallic Shell 5"

Black with black metallic nubby thread hand twisted into the yarmulkah.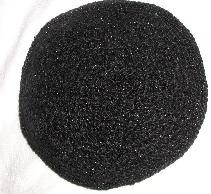 Black Cotton with hand twisted black nubby metallic threads.

Shell stitches as above.

This metallic thread gives the black cotton a slight occasional glimmer where the metallic twist shows.

Size 5"

Special price $40.00 each plus shipping.
---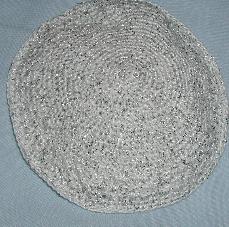 Style KWsilvertwist shell border


White cotton
Silver metallic hand twisted into the cotton
Single crochet with shell stitch border
5"
Special $35.00 plus shipping.
---


Style #KWhite Silver Twist Shell 5"

White with Silver metallic nubby thread hand twisted into the yarmulkah.

This is incredible!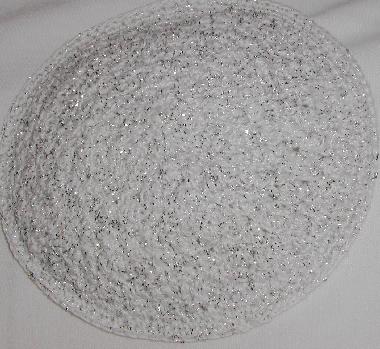 White Cotton with hand twisted silver nubby metallic threads.

Shell stitches as above.

This hand twisted metallic thread gives the white cotton more silver than the factory twisted white with silver above.

The nubby thread also gives the yarmulkah a better form than the softer factory yarn.

Size 5"

Special price $40.00 each plus shipping
---

New yarn and thickness.
Size 5 yarn. Medium thickness of cotton is slightly thicker than traditional cotton for yarmulkahs. Holds shaper better.



Style KEP5shelledge8 and KWP5shelledge8



Ecru pearlized or white pearlized cotton
has little glimmers of reflective sparkle. Subtle.
Single crochet with a border of shell stitches.
8" So fits most heads with out clips.
special $45.00 each plus shipping
---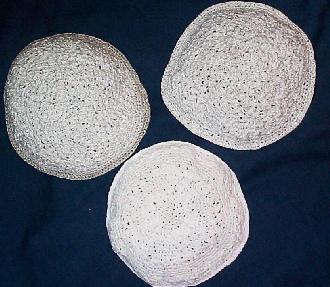 White Trio All size 5 1/2"
KWS15, KWSS15 and KWfancy
---
KWS15 is the same as above in size 5 1/2"

White with Silver Metallic.

price of $35.00 each plus shipping.
---
KWSS15 is also the same as above in a 5 1/2" size but with a single row of silver with silver metallic thread edge.

Made slightly different so it can be ordered as a set.

All white for groom or bar mitzvah teen.

The silver edge for father or wedding attendants.

price of $35 each plus shipping.
---
KWfancy is an all white cotton with three rows of fancy stitches to give it special interest.

Suitable for Bar or Bat Mitzvah teen or groom.

$35.00 each plus shipping.
---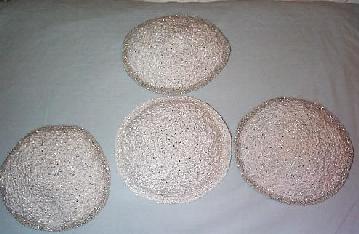 KWS Wedding set Fancy Edge


White with silver metallic filiaments.

Fancy 3d stitches and fancy 3d edge.

One All white.

3 White with Silver edge.

Size 5 1/2 to almost 6.

Price: $35 each kippot plus shipping.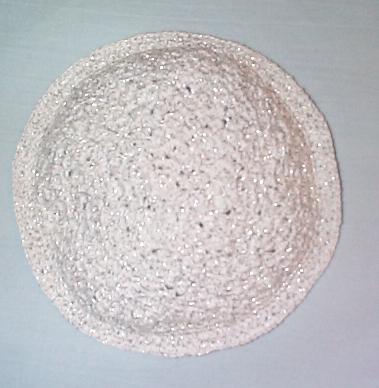 Close up of same kippot.
---
#KCtwofancyf

Cream Colored (Slight yellowish white) Cotton
Single crochet with two rows of raised three demensional flower/star like stiches.
Size 5 1/2"
$35.00 plus shipping.
---
Colors available:
White Kippot, Off White, Ecru and More!

White Threads are available in many styles:
*white, *white with pearlized threads, *white with gold metallic or *silver metallic.
Also in *regular or *thick threads.

Many brides, grooms and Bar/Bat Mitzvah teens want off white.Off white is hard to define, picture and find.
The closest I have found in off white shades have been *Natural, non dyed cotton
*ecru (light beige) and *Ecru with pearlized.
*Ecru with Gold metallic threads are also available but looks darker.

Other shades of "whites" are now starting to be available in *Cream and *Vanilla.
I find these to be in the yellow white family.
---
All of the above styles can be ordered in different colors for the same price.

Some of the other colors are:

white/gold metallic
white/silver metallic
black/silver metallic
black/gold metallic
white/pearlized
ecru/pearlized
ecru/gold metallic
red/gold metallic

Plus many solid colored or varigated colors in cotton.

Other metallic yarns can be hand twisted into most cotton threads.
---
For more gift or party favor ideas see my weblinks pages.
---
Bulk Hand Crocheted White Kippot
Many people ask me about bulk kippot.
Dozens or 100+
Yes I do.
For more information see See my family set pages
---
Wedding bulk Samples
Solid Non Lace
The following are a group of samples I made for one wedding.

They were thick white cotton with a variety of large stitches.
Silver metallic was twisted in and a thicker silver was on the edge.

These were in a 6" but curved so some could wear with out clip.

Many other colors are available to go with your wedding or bar/bat mitzvah theme.

Because each kippot takes a long time to hand crochet, most bulk orders of this type can take me 2 to 3 months to make.

I can order labels from another company and I can sew them in.

Call or email for price quotes depending on size of order and time needed.

Other colors and designs are available in over 50 colors.
---
Thinner threads and small stitches can always be ordered but the price reflects the increase in time.

Call or email me and we can discuss your budget and design ideas.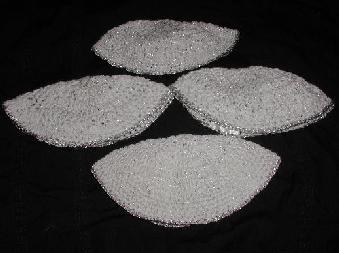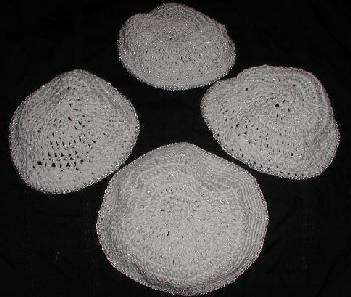 ---
Bulk Lace Kippot

---
After many requests for bulk orders in a lace style, I am finally coming up with some samples that have the same high quality of my other designs but in slightly thicker (therefore quicker) yarns.

Colors are limited (about 10 different colored cottons not 50 like my traditiohal yarn) but metallic yarns can still be hand twisted into them or can be used as trim.
---
Custom orders only.
Samples of Bulk Kippot ONLY
No individual sales
Hand crocheted by Eileen (made in USA).
Hand washable.
NO Starch used. (Like the copy cats)
Therefore, they will still smooth to the shape of your guest's head.
5" (My most popular size)
Will need clips or bobbie pins to hold on head.
Still has Eileen's unique shell stitch border
A kipah your guest will treasure for years to come.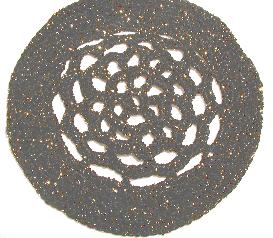 Black medium weight cotton with hand twisted black/gold metallic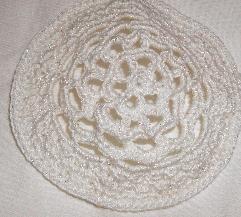 White medium cotton with hand twisted pearlized metallic yarn
Prices for bulk lace kippot in medium or thick cotton range from $240 per dozen (1 dozen) plus shipping to $144.00 per dozen plus shipping (6 or more dozens)
But with the same quality of Eileen's $35.00 each and higher!
---
1 to 2 months needed for most bulk orders.
(Please allow 2 to 4 months for
3 or more dozen ordered.)

---

New Yarn and Bulk Specials

---

Sample of bulk kippah order of 100!
New Yarn. Thick Suede Feeling Yarn.
Similiar to chenille but smoother.
8" (no clip needed)
Many colors available.
Can be special ordered in solid color or with contrasting edge.
Bulk Prices vary by quantities ordered.
Single kippah $20.00 plus shipping


---

Labels can be ordered from General Label Company and you can either sew in yourself or I can sew them in for an additional charge.

---

More High Holiday, Bar Mitzvah or Groom Kippot

---


Style - KMoshe White

White cotton with thick silver metallic stripes
Border of fancy shell stitches.

5"

$40.00 plus shipping.

---

---

See Bar/Bat Mitvah and Simcha sets for more ideas.

Plus pictures of 9 piece burgandy set made to match the Moshe white kippah.

---

---



Custom order.
Natural cotton in traditional weight
(slighly thinner than others on this page)
6" domed and 5"
Thick silver metallic as stripes and on edge.
3D shell stitch border
In size 10 cotton as pictured $40-45 each plus shipping
When available in medium size 5 cotton (works up faster) $35- $40 each

Check out Bar and Bat Mitzvah sets for pictures of women's lace headcovers to match this set.

---


Style KGpetite



For the Groom, Bar or Bat Mitzvah ... special.
Gold/gold metallic cotton.
5"
Single crochet with a border of fancy flower/sun ray stitches.
can be ordered with a beaded applique. see beaded applique pages.
Price special $35.00 Plus shipping.

---

#KW Pearlized twist thread
picture still does not show the light sparkle of this kippah

White cotton
Pearlized nubby thread hand twisted.
5"
$35.00 plus shipping (Introductory Special)
---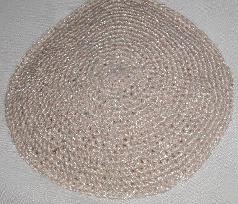 Style# Ecru Pearlized w/pearlized twist
Ecru Pearlized cotton with hand twisted white pearlized nubby threads hand twisted into the cotton.

5"

Introductory special -$35.00 plus shipping.
---
Style #KBSWedding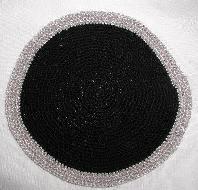 Black single crochet cotton thread.
Silver Single crochet border.
Size 5 1/2"
Price - Special $35 Plus shipping.
---

Hand crocheted fun fur trimmed flip flops can be ordered for wedding reception wear for brides and bridal parties.
They can be ordered in colors to match your theme or in all white.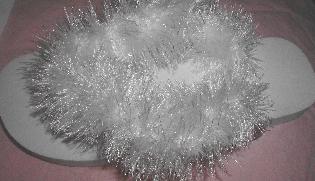 Click here to see more examples.
---