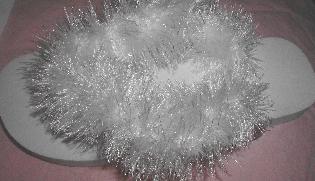 Wedding Flip flops


Wedding bags for Jewish Traditional Glass Breaking Ceremony
---
SPECIAL ORDERS CROCHETED GIFTS
CUSTOM HEADCOVERS

---

Flapper Hat

Custom headcovers for all occasions can be ordered.
How is a Chadis Crafts's Kippot Made?
All are uniquely designed and sized.
Each kippot takes from 2 to 4+ hours to crochet.(Some of the full head covers can take 3-5 evenings to make!
---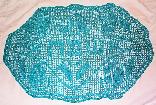 ---
---
CUSTOM COLOR BLENDS
---
Kippot are made of :
100% cotton. In over 50 colors. (Solid Colors and multicolor yarns.)
Cotton and metallic blends.
Cotton/rayon blends. (boucle's)
With a few acryllic blends.
(To get the thick and/or multicolor look.)
Most pictured styles can be made in other colors.
Yarmulkas/kippot are also available in many colors to match your outfit or tallit.
Also threads are available in different thicknesses.

---
Special trims and blending threads available:
cords
pearls.
shells.
beads.

SAMPLES OF TRIMS AND BEADS:
TRIMS:


BEADS:
Glass beads


SAMPLES OF METALLIC BLENDING YARNS AND THREADS




I now have over 20 new colors of nubby metallic and rainbow threads to hand spin into my cotton threads!

Great for ladies and men's kippot. They can be used with any thickness of cotton thread.
Even variegated cotton.

UPDATE! I now also have a few of these metallics in a 4 ply (thicker) thread.
Great for trims and to crochet into thick cottons as stripes.
Great even on men's full head covers.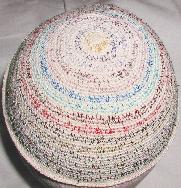 ---
Variety of Stitches
I especially enjoy crocheting Kippot that have woven 3d designs.
(Using the old fancy stitches like the shell stitch etc.)
Please visit often!
New items are being added often.
---
GIFTS CERTIFICATES ARE AVAILABLE.