Welcome to CHADIS CRAFTS'
Jewish Gifts and Jewelry Catalog 2
Page 1 Jewish Holidays and Shabbat

© 1998 - 2018 CHADIS CRAFTS ORIGINAL DESIGNS
Designed by Eileen Chadis Wood


---

---

Jewish Holiday Jewelry and Gift Assortments
Pins, Earrings, Bracelets and Gifts
---
Jewish Holidays
High Holiday GIFTS
Wine charms, Polymer clay on glass Apple and Honey Sets,

Sukkot Jewelry and Gifts


Jewish Holiday Fruit
Apples, honey, pomegranates, citrons and more

Simcah Torah Jewelry

Chanukah Jewelry and Gifts
Purim Jewelry and Gifts

Tu B'Shvat- New Year for Trees
Tree and Tree of Life Jewelry

Passover Jewelry and Gifts- page 1
Women's Seder Theme Gifts and Jewelry

Miriam's Tambourine Gifts, Elijah
and Miriam Beaded Wine Markers and more.


Shavuot Ten Commandments
---
Shabbat
Bracelets, earrings, pins, gifts and more

Shabbat and Havdallah

Jewish foods

Kosher Food, Gefilte fish, Chicken soup and more.
BAGEL JEWELRY!
---
Star of Davids, Chai, Chumsahs, Tree of Life, Kabbalah and more!
New symbol charms available in golden pewter and pewter.
They can be ordered in any of my designs.






---

MORE EARRINGS

Earrings - Pierced and Clips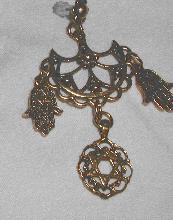 Chandelier Earrings
---
CLIP EARRINGS= Non Pierced Earrings
---
Jewish Holiday, Shabbat and Symbol Bracelets and Necklaces



Wired glass beaded bracelets and silver enamaled charms bracelets.
Bracelets. Adults and Teen: Charm, wired glass beads, cha cha bracelets, link bracelets and more
Bracelets:
Kids, Teens and Adult Plastic and Ceramic stretch elastic bracelets
Bracelets:
Children, Teen and Adult memory wire bracelets.
Sterling Silver Bracelets and Pendants

Wired Glass Beaded Necklaces
With Charm pendants
Jewish Metal Purse Necklaces
---
MORE JEWISH JEWELRY, Judaica and Gifts
Assorted styles, holidays and more.
See holiday assortments on the left for even more!
---

PEWTER, GOLDEN PEWTER, BEADS, STERLING AND MORE!
---

Mens and Boys:
Now available with many of my pewter and golden pewter charms as well as my new resin jewelry.
In stock with prices and pictures coming

---

Metal:

Metal Book Marks

Many styles of bookmarks for men and women.

---
Key Chains.
Many styles and charms
---

String/Cord Book Marks
---
String and corded book marks
with glass beads and charms
---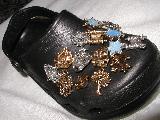 Shoe Jewelry
Metal, Resin and more for crocs or rubber bracelets
---
Shoe Jewelry
Key Chains
Zipper Pulls
Lobster claws
Tie Tacs and lapel pins
Pins/necklaces
ID covers
Molded 3D Jewish Jewelry.
I have carved my own Judiaca 3D molds. .
---
Shabbat, Holiday and Passover
Napkin Rings/Wine Charms


Holidays, Shabbat, Havdallah, Food and more!
Hand beaded cloth napkin rings
---

New Editions Added Weekly So Visit Often.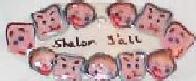 ---
eileen@chadiscrafts.com
---
Click here for ORDERING INFORMATION.
GIFTS CERTIFICATES ARE ALSO AVAILABLE.
---
To return to Home Page
---
CLICK HERE TO PLACE AN ORDER.
All Kippot/Yarmulkas are priced each and shipping is extra.
Special Pages Index Below- Click on underlined word to go to these pages