---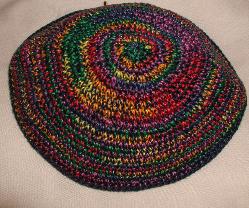 Style- KNMEX Navy Edge 6"
Primary colors in a variegated cotton twisted with navy cotton
navy cotton edge
6"
Special $30.00 plus shipping
---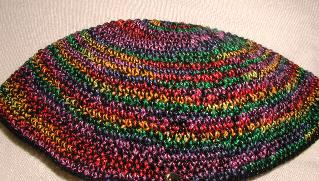 Style KBLMEX Black Edge 8"
Doubled Rainbow variegated cotton mixed with black cotton
Black Cotton edge
8" Special $40.00 plus shipping
---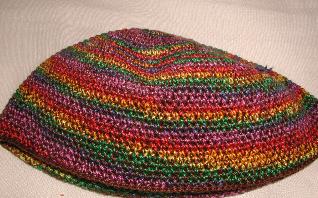 Style KBRMEX Brown Edge 9"
Doubled yarn with Rainbow variegated and brown cotton yarn
9"
Special $45.00 plus shipping
---
---

---
Style #Kmexdoublered 6.5" shell border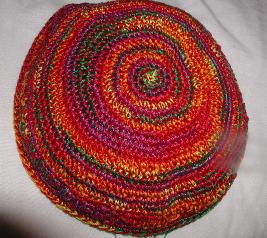 Red cotton twisted into varigated primary color cotton yarn
Fancy Shell stitch border
Size 6.5"
Special $30.00 plus shipping
---
Style #KMEXdoubleRed8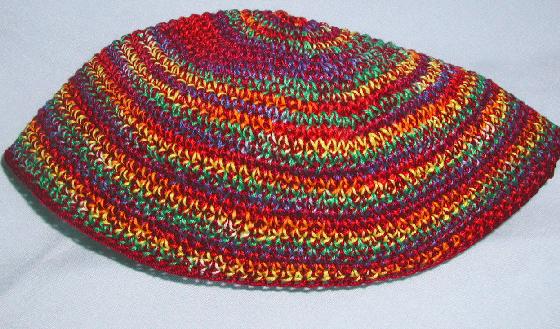 PRIMARY COLOR Varigated Cotton
(Reds, Yellows, Greens & Blues)
Red Cotton
Single crochet stitch using double cotton threads
Red Cotton edge
Size 8
Special $40.00 plus shipping
---
---

Style #KMEXdoubleOr8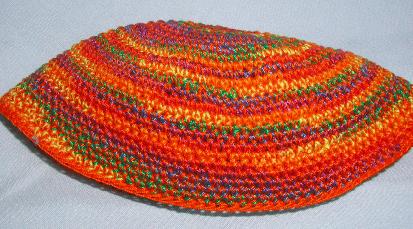 PRIMARY COLOR Verigated Cotton
(Reds, Yellows, Greens & Blues)
Orange Cotton
Single crochet stitch using double cotton threads
Orange Cotton edge
Size 8
Special $40.00 plus shipping
---
---
---
All yarmulkahs are priced for a single yarmulkah/kippah and shipping is extra.
Eileen generally ships US Post Office priority shipping box for $5.00 for small for USA Shipments.
Additional costs for shipping for larger/heavier boxes.
CLICK HERE TO PLACE AN ORDER WITH CHADIS CRAFTS
---
All Kippot/Yarmulkas, Scarves, Jewelry and Gifts are priced each plus shipping is extra.
---
---
Special Pages Index Below- Click on underlined word to go to these pages