CHADIS CRAFTS & KIPPOT
&copy Design Originals
For Questions and Orders:
Telephone Number: Virginia, USA
757-344-6656

Customer Service is open:
9 AM to 10 PM EST. (USA)
Except on: The Jewish
Shabbat.
Sundown Friday to Sundown Saturday.
Plus Also Closed on All Jewish Holidays.

---
---
To Place and Order with Chadis Crafts
---
See my flickr pages for examples of custom orders.
Be the first to find out about new products and specials.

Click on Facebook and become a fan of Chadis Crafts!

---
---
Follow Chadiscrafts on Tumblr too
Search on Chadiscrafts
---
To return to
Chadis Crafts Home Page
with catalog indexes.
A CHADIS CRAFT EXCLUSIVE.

Style - #Khalf 4rb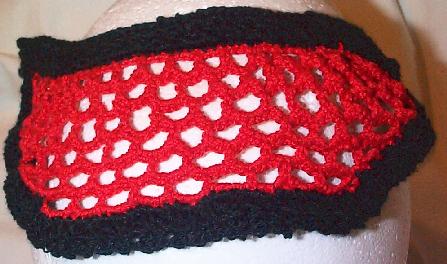 This shape is like the old fashion doiles Temples gave out for women.
Now in hand crocheted open lace with a scalloped border in a 3D stitch.
Perfect for teen or woman that wants a more traditional look.
Perfect for someone who wants to put hair up in French twist or pony tails.
Also great for girls that want to put the popular butterfly clips in hair but still wants her head covered.
---
Style - #Khalf 4rb
Red Cotton.
Black Cotton Border.
Open Lace with wide solid border of 3d design and single crochet.
Size 3 1/4 long by 8" Inches wide
Price $35.00 each plus shipping.
---
All yarmulkahs are priced for a single yarmulkah/kippah and shipping is extra.
Eileen generally ships US Post Office priority shipping box for $5.00 for small for USA Shipments.
Additional costs for shipping for larger/heavier boxes.
CLICK HERE TO PLACE AN ORDER WITH CHADIS CRAFTS
---
All Kippot/Yarmulkas, Scarves, Jewelry and Gifts are priced each plus shipping is extra.
---
---
Special Pages Index Below- Click on underlined word to go to these pages