CHADIS CRAFTS & KIPPOT
&copy Design Originals
For Questions and Orders:
Telephone Number: Virginia, USA
757-344-6656

Customer Service is open:
9 AM to 10 PM EST. (USA)
Except on: The Jewish
Shabbat.
Sundown Friday to Sundown Saturday.
Plus Also Closed on All Jewish Holidays.

---
---
To Place and Order with Chadis Crafts
---
See my flickr pages for examples of custom orders.
Be the first to find out about new products and specials.

Click on Facebook and become a fan of Chadis Crafts!

---
---
Follow Chadiscrafts on Tumblr too
Search on Chadiscrafts
---
To return to
Chadis Crafts Home Page
with catalog indexes.
PETITE SIZE BEADED KIPPOT WITH SEED OR TUBE CUT BEADS
---

BEADED KIPPOT

Style - #KBL jet black glass tube beads Petite 5"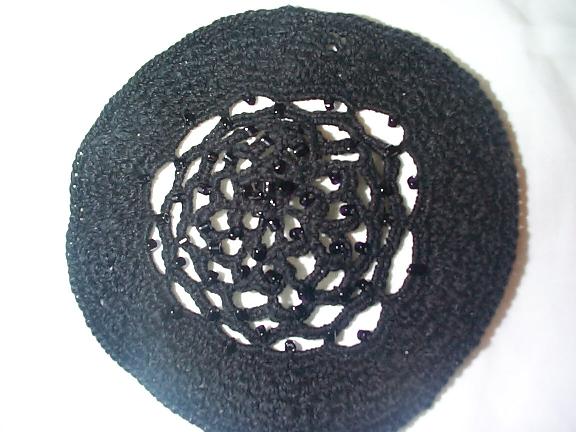 Black Cotton.
Open lace with 5 rows of small tube cut glass beads in Jet Black. Beads are crocheted into the design.
Border of Fancy Shell Stitches.
Size 5" Petite
Price $45.00 plus shipping.
---
Special order of the same colors in a 6" full size would be priced at $55.00 plus shipping .
---
#KWPVERAsquareseedopal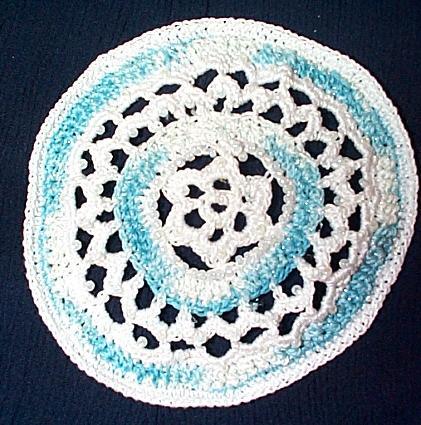 Very special!

Petite 5" size.

White pearlized with variegated threads in shades of blue and aqua.

Seed opal color glass beads.

$50.00 plus shipping
---
---
Other styles and colors of threads and beads can be made.

Seed beads in stock include:

* multi color muted gold, gunmetal silver, copper.
* opal white
* muted dark blue and more.
---
Tube shape small beads are also available in:

* purple
* blue.
---
All yarmulkahs are priced for a single yarmulkah/kippah and shipping is extra.
Eileen generally ships US Post Office priority shipping box for $5.00 for small for USA Shipments.
Additional costs for shipping for larger/heavier boxes.
CLICK HERE TO PLACE AN ORDER WITH CHADIS CRAFTS
---
All Kippot/Yarmulkas, Scarves, Jewelry and Gifts are priced each plus shipping is extra.
---
---
Special Pages Index Below- Click on underlined word to go to these pages